Are you looking for a reliable Amazon Web Services partner? Look no further than Profisea! Our team of DevOps and cloud experts can help your enterprise or tech company develop new cloud solutions, migrate existing systems, and apply best practices to streamline workflows. From cloud strategy development to maintenance, we offer a full range of services that include technical assessment, infrastructure setup, security, and more.
Amazon Web Services for Business: Resources to Innovate
Amazon Web Services (AWS) is the most popular cloud platform, offering a complete range of services, extensive infrastructure, and competitive pricing models for different business workloads, including computing, storage, database, analytics, AI, machine learning, and more.
Profisea, as an AWS DevOps Services Competency Partner, assists startups, SMBs, and large enterprises increase productivity, lower cloud costs, and shorten time to market.
To truly leverage AWS solutions for enhancing user experience and accomplishing your business objectives, draw on Profisea. Our certified DevOps engineers will make the most of the largest and deepest stack of AWS cloud services and offer a set of processors and accelerators built to suit specific performance and price requirements.
Why AWS?
Scalability
To meet changing demand for their services, companies now favor cloud-based infrastructure to avoid investment in additional equipment.
Reduced costs
Cloud infrastructure enables businesses to transit their IT spend from capital costs to operating expenditures, saving heavy outlays.
Market agility and speed
Profisea, as an AWS cloud partner, allows businesses to adapt quickly to their customers' needs and offer new services.
Business continuity and disaster recovery
AWS and its partners provide sophisticated solutions to guarantee that key systems and data remain accessible in case of interruptions or outages.
The AWS Consulting Services We Provide 
Are you looking to migrate to the cloud?
Profisea, as an AWS Advanced Tier Services Partner, has got you covered every step of your journey to and through the cloud! Our team of certified cloud engineers provide a wide range of services, from cloud readiness assessments to infrastructure setup, architecture redesign, migration, maintenance, etc.
Are you keen to make the most of cloud infrastructure?
Our cloud-native architects will help you assess and develop serverless architecture with AWS Lambda, Amazon API Gateway, Amazon S3, and Amazon DynamoDB. And if you need a scaling platform, we'll help you design a microservices architecture offering greater control, security, and cost-efficiency.
Do you need to streamline your software delivery and deployment?
Our DevOps experts can help you set up fully automated deployment cycles (CI/CD), automate IT infrastructure management using infrastructure-as-code (IaC), and build efficient monitoring and alerting solutions to prevent disruptions. 
Are you looking to optimize your cloud costs and improve performance?
AWS DevOps Services Competency Partner, Profisea will analyze your current cloud infrastructure and technology to identify opportunities for more efficient and cost-effective use of cloud infrastructure and managed AWS services. Trust Profisea to help you take your cloud journey to the next level!
Are you ready to skyrocket your AI startup?
With Profisea as your Amazon Web Services consulting partner, you'll increase productivity, reduce expenses, and dramatically cut time to market. Our comprehensive AI and ML services stack will be designed and implemented to meet your specific performance and price needs, enabling you to improve user experience and achieve business objectives.
Increase the Value of Your AWS Cloud Migration
Profisea's certified DevOps engineers fully understand the complexity of cloud migration, particularly for companies in heavily-regulated areas such as finance and healthcare. Leveraging the best automation tools and technologies, Profisea streamlines cloud migration, eliminates human error, and provides complex support for our customers' cloud environments.
If you're looking to navigate the challenges of cloud migration with confidence, Profisea is here to help. Contact us today to learn more about how we can optimize your cloud journey!
Up to 66%
infrastructure cost savings
Up to 77%
reduction in licenses required
43%
lower time to market
 for new features
29%
increase in staff focus on innovation
45%
fewer security-related incidents
AWS Solutions and Technologies We Work with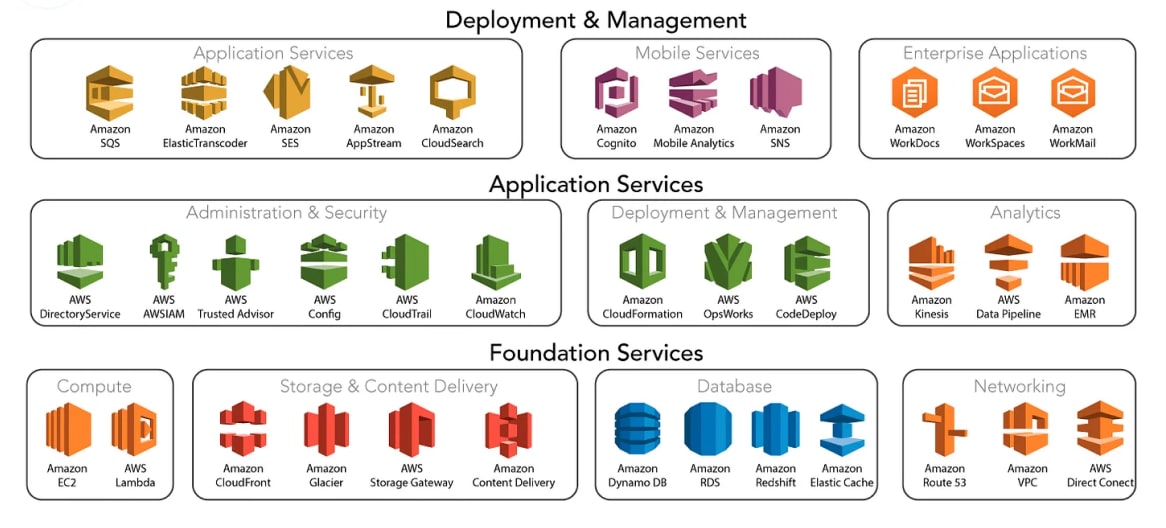 We tailor the right combination of AWS services to accelerate your business success.