Vera Shulman ─ AWS Partner, Profisea, combining astute business skills and technical know how to accelerate customer digital journeys…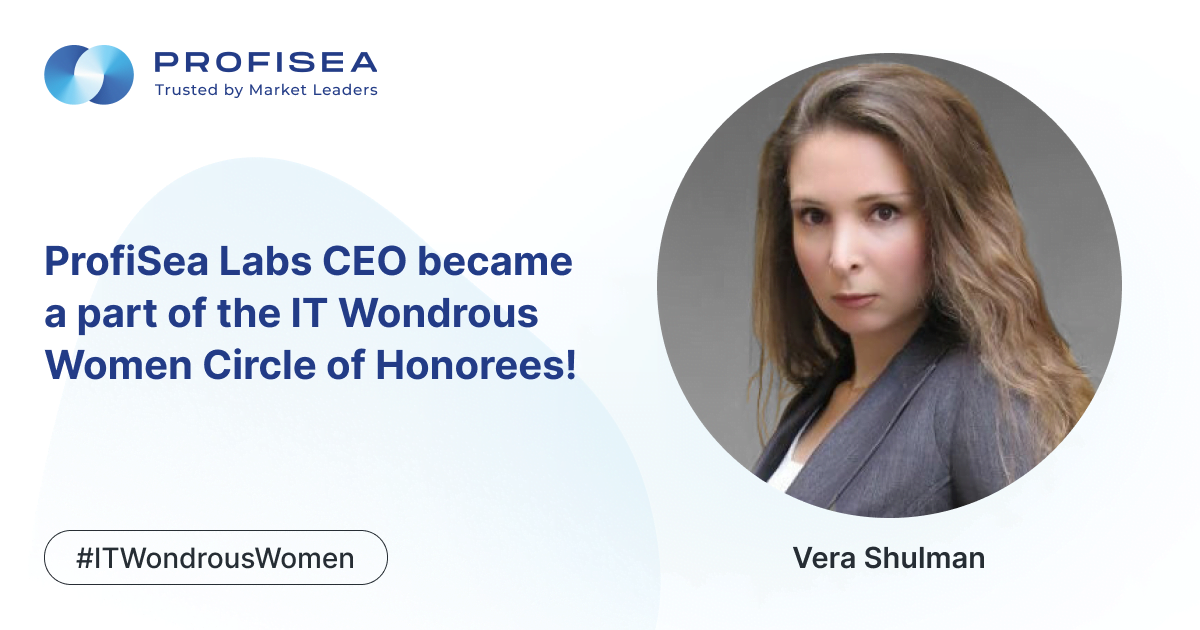 Are you looking for an AWS Partner who combines astute business skills and technical know how to accelerate customer digital journeys? We know the person —Vera Shulman!
Nominated to participate in IT Wondrous Women™ by the AWS Partner Field leadership, Vera Shulman is the CEO of Profisea, an AWS Partner and boutique DevOps and Cloud company. She leverages her technology background and managerial experience to lead Profisea's top-notch experts and executives to help customers build state-of-the-art automated, cloud native, and lean development and delivery processes wrapped around Profisea's DevOps best practices and tools. Vera combines astute business skills and technical know how to accelerate Profisea's customers digital journey.
Please meet this IT Wondrous Woman™, Vera Shulman!

Our 10 Questions for this IT Wondrous Woman.
Fun Facts
1. What's the one thing about you that your business colleagues don't know about you?
My business colleagues probably don't know my dog Knight's story. We almost lost him when he was young. My family will never forget these terrifying two weeks of waiting while our poor puppy was placed on life support. Fortunately, Knight is with us now, and helping stray dog shelters became one of my missions, as Knight had us but these dogs don't have anyone to take care of them.
2. Before the pandemic, how many air miles/KMs did you flying annually?
As a mother of 2, I tried to minimize air miles as much as possible. Generally, I had 4-6 business trips a year, from Israel to the USA/Europe and back. Do the Math!
3. What is the most adventurous food you have eaten and what city/location did you eat it?
An adventurous person is something that does not characterize me. However, if you want something special, be my guest and taste Georgian dishes Hachapuri and Khinkali (a big Georgian-style dumpling).
Your Career
4. What are the top two experiences, achievements or failures that shaped your journey as a successful leader?
Being a woman-IT leader is quite challenging. Being a woman-IT-leader building a bootstrap business together with her husband is double challenging. I am so very proud of the fact we not only grown to be a successful DevOps boutique consultancy with the most knowledgeable experts but also created the coolest CloudOps platform.
My biggest professional achievement is our software product, an AI-Based CloudOps platform for assets management we created with my husband who is our CTO, a visioner and a mind behind our technology.
5. Did you have a mentor in the early part of your career and, if so, what is the biggest lesson you learned from your mentor or influencer?
During my career, I learned from every manager, peer, and employee I worked with. I implement every lesson I have learned in our strategic decisions and daily operational life.
Walking In Your Shoes
6. What is one piece of business or career advice you would give to your younger self?
Please, embrace new adventures and opportunities!
7. As a leader, how do you remain a resource for people early in their careers?
I believe that talent doesn't have age. We hire top notch professionals without regards to their career stage. I guess that the most junior specialists can learn from me, but they teach me something new as well. The relationships in our company are based on mutual respect, trust and it's not affected from years of experience or position.
Today's Business Environment
8. What is the most interesting project you have worked on in the last few years?
Our start-up – profisealabs.com – is aiming to change the landscape of cloud management platform industry. There is a lack of visibility of what's happening on the cloud, and sometimes cloud bills feel like an unfair play, especially for young startups. We came up with a platform that enables easy and simple visibility of cloud assets and a unique saving strategy tailored for customers' business goals, cloud usage patterns, and digital transformation journey.
9. What skills are you currently developing or refining (in yourself) that will make you a more successful leader in the digital economy?
The digital economy is developing and evolving at a very fast pace – I always need to be on top of all technology changes and innovations related to DevOps, Cloud, and FinOps, so I discover, read, analyze, and absorb new information daily.
10. What is your greatest business challenge today?
As a leader of a fast-growing company, my greatest challenge is to maintain the company's values – professionalism, loyalty, and responsibility for customers' success. Meeting business goals is impossible without having great people of your side, and I am proud that members of Profisea's family in all our geographies share these values.
Source: Globaltouch