Top 2021 DevOps & CloudOps Conferences You Don't Want to Miss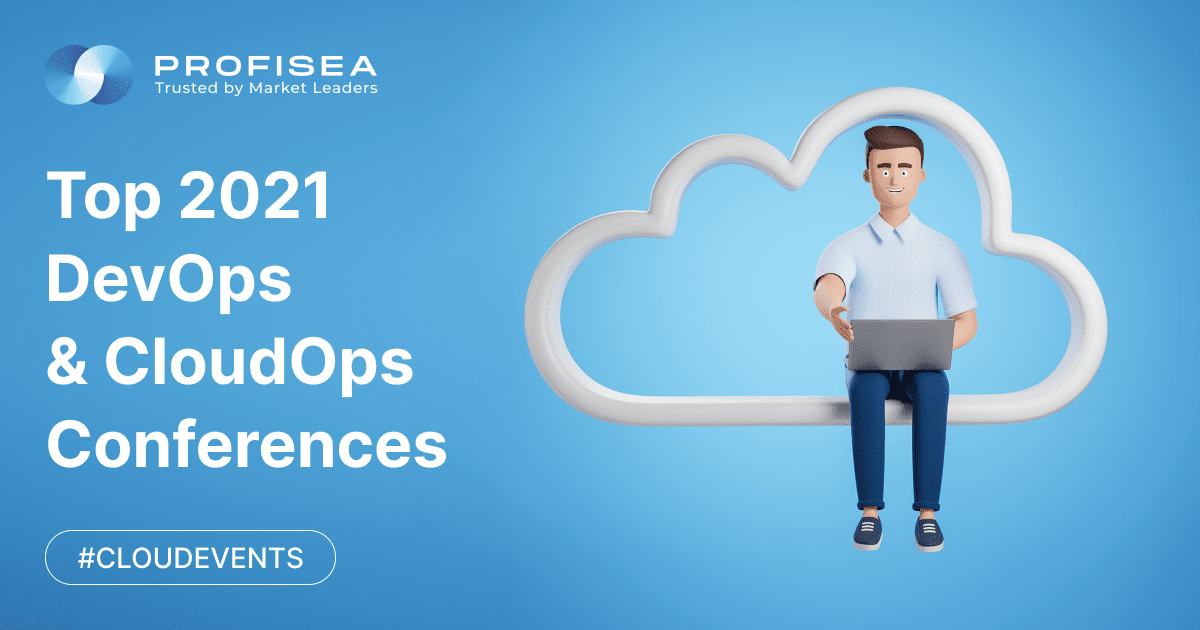 It is very difficult to assess the benefits of participating in a conference. In truth, contacting other experts is undoubtedly the most important one. You can be a junior or mid-range developer and you can meet a senior DevOps team leader with years of experience that can completely change the way you think about this subject. During conferences, you can get acquainted with the real icons of their craft. Each conference's main goal is to promote advanced research and the latest technologies, research, development, exchange of ideas and, of course, networking. As such, in this article, we'll discuss why DevOps engineers, IT leaders, and every DevOps-devoted person should attend DevOps/CloudOps conferences, which of them are worth attending in 2021, and how to get the most out of the conference.
Conference: reasons to attend
What are the main reasons to become a conference participant or speaker :
Feedback. You can receive an expert opinion on your latest work. It doesn't matter whether you are this conference speaker or not, you can discuss your recent achievements with your colleagues to hear their honest opinion. Plus, experts will definitely provide you with many helpful tips and advice.
Growth & development. While attending a conference, you learn about the latest discoveries in your field even before they are published because many experts try to demonstrate results that have not yet been published in the world at conferences.
Upgrade. You improve your skills at conferences including interpersonal skills, communication skills, both oral and written. You totally work on your listening skills and get precious debate experience when engaging in discussions at conferences.
Networking. You are creating a system of connection that helps you build networks with people who are real experts in your field. Quite often, you need the advice of an experienced professional, and the easiest way to talk to such an expert is to chat with him/her during a conference.
Fine CV line. IT managers pay close attention to how candidates are developing and what they are doing to keep the process moving forward. It's great when this line appears in your resume.
2021 DevOps & CloudOps Conferences worth attending
Name: DevOps World
Date: September 29-30, 2021
Place: Virtual
Price: Free
DevOps World is a chance to gain inspiration from experts and peers and tools you need to shape the future of software delivery in your organization. It serves the entire DevOps ecosystem and brings together opinion leaders, practitioners and community members from around the world, giving members the opportunity to learn, explore, virtualize, and together change the future of software delivery.
Name: Google Cloud Next
Date: October 12-14
Place: Virtual
Price: Free
In 2020, Google presented Cloud Next: OnAir, a virtual version of its annual cloud computing conference. Next '21 is for everyone — from developers to CEOs and everyone interested in exploring how cloud technology can help them solve their biggest business challenges. This year, you'll find that Next '21 is a customizable digital adventure, allowing you to easily create your very own personalized journey. Each day, you'll have the opportunity to engage with featured live experiences and attend on-demand content that aligns with your day, and your interests. How you build your learning journey at Next '21 is totally up to you.
Name: 2021 All Day DevOps
Date: October 28, 2021
Place: Virtual
Price: Free
All Day DevOps (ADDO) is the world's largest DevOps conference and has been running virtually for the last six years. The ADDO conference has 180+ speakers over 24 hours across six tracks — Continuous Everything, Modern Infrastructure, DevSecOps, Cultural Transformation, Site Reliability Engineering, and Government. With something to appeal to all on the agenda, technology teams across the world can look forward to exploring focus areas as well as seeing firsthand how other leading organizations are improving their DevOps practices.
Name: AWS re:Invent
Date: November 29 – December 3
Place: Las Vegas, NV
Price: TBD
As the dominant player in the market, AWS' flagship conference is the biggest event in cloud computing every year. It's typically held in Las Vegas the week after Thanksgiving. Hear the latest from AWS at re:Invent. Be the first to learn about new product launches and hear directly from AWS leaders as they share the latest advances in AWS technologies and set the future product direction.
Name: Gartner IT Infrastructure, Operations, and Cloud Strategies Conference
Date: December 6-8
Place: Las Vegas, NV/Virtual
Price: TBD
Gartner IT Infrastructure, Operations & Cloud Strategies Conference 2021 will focus on how to embrace change and meet the growing needs of the enterprise by optimizing workloads, increasing efficiency, and building resilient systems and teams. Take this opportunity to stay ahead of disruptive forces and future trends and influence the future of your business.
5 hacks to get the most out of a conference
Some conferences are quite helpful, but some of them can be frustrating and disappointing to the participants. Here are 5 tips to help you get the most out of your conference attendance.
Learn info about the conference from a credible source and consult people who already attended this conference. In this particular case, a rumor mill can be quite helpful when you get information from former participants on what sessions are worthy and so on.
Make a plan. Study the program the day before the conference and choose a couple of sessions and talks worth attending, but don't try to cover everything, you don't want to run like a hamster in a wheel.
Get in touch with organizers. Sometimes conference organizers need urgent help with ceremony management. Even a simple offer of your help will surely make you noticable.
Talk to people. Ask as many questions as you need and don't be afraid to sound overly assertive. True experts adore sharing their knowledge and experience. And make sure your name tag is visible.
Contact the people you meet at the conference afterward. Plus, if you enjoyed the conference, don't forget to compliment the organizers and post positive feedback on social media platforms.
Wrapping things up
Engineers must keep up with new technologies as the flexible nature of software means that IT professionals need to regularly acquire new skills, and seek new opportunities. It has never been more important to revitalize your experience, connect with other experts, share ideas, ask questions and get answers from colleagues and, as a result, enrich your profiles, especially as DevOps engineers. If you have any questions, please feel free to contact us and Profisea experts will help you with any DevOps and CloudOps-related issues you have and achieve the best-in-class DevOps-as-a-service for your business.