What our partners say – GoodFirms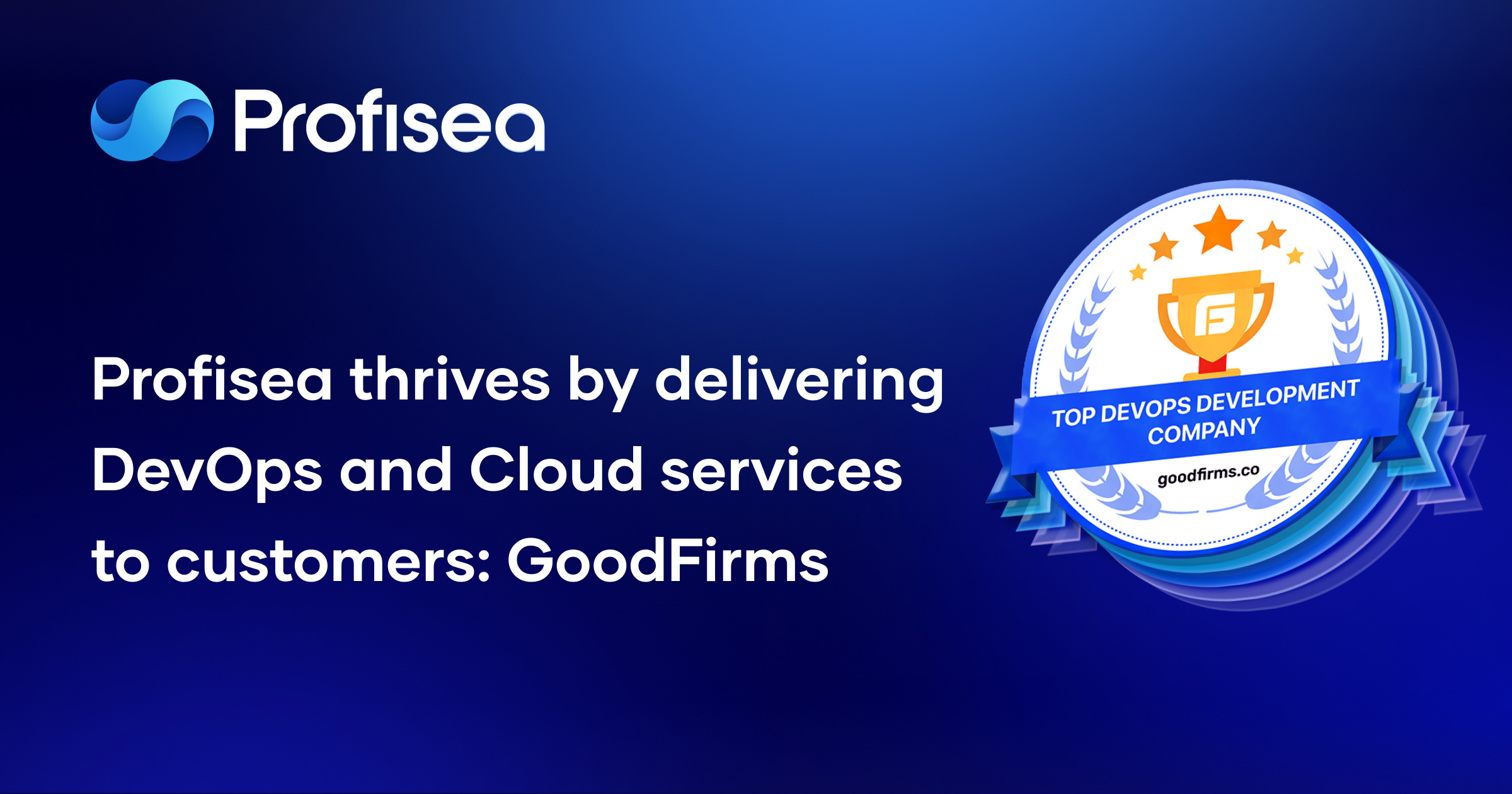 In this evolving digital era, business challenges have replaced the traditional delivery approaches to a new level. Today, rapid solution delivery has become the potent strategy of almost every technology company. Therefore, most companies are adopting a DevOps methodology  to automate service management to support operational objectives and enhance their understanding of technical and business culture .
Hence, Profisea has been recognized as among the Top DevOps and Cloud Companies renowned for assisting the technology companies in bringing the development and operation team together to render agile and cost-effective solutions.
Profisea Introduction
Incepted in 2015 and headquartered in Israel, Profisea Ltd is a leading DevOps and Cloud company that has been implementing the best practices of GitOps, DevSecOps, and FinOps, and providing Kubernetes-based infrastructure services to help businesses of all sizes. Since its inception, the company has delivered numerous projects in various domains, constantly growing with customers.
Profisea's experts, DevOps engineers, cloud experts, and FinOps  practitioners combine engineering excellence and hands-on experience with a customer-first approach to deliver high-value, high-quality solutions that supercharge clients' enterprises and create lifetime partnerships.
Since 2015, Profisea has provided innovative Cloud, DevOps, DevSecOps, ALM, NOC, SRE, and FinOps services  leveraging the best DevOps and Cloud technologies. The company's mission is to deliver  quality and cost-effective IT  solutions so that any business can function efficiently in the digital space.
Why Choose Profisea?
The experts  can start to work on your project fast
Profisea is proven & trusted by industry leaders
The company is super flexible to fit your business
DevOps and Cloud experts provide the full suite of the most crucial Enterprise IT  services
Profisea  uses the latest tools for delivering robust Cloud
GoodFirms Research Process
GoodFirms is known for its core B2B research and reviews that help clients find an appropriate company that offers the best web and software development services. There are numerous categories in which companies are ranked on the website, and businesses need to enlist with GoodFirms.
GoodFirms evaluates each enrolled business on three principles:
Quality
Reliability
Ability
The Goodfirms team's approach is driven by innovations that boost businesses and maximize their R.O.I. The teams' determination to deliver and stay linked with the customers to achieve their goals has made GoodFirms' researchers rank Profisea as a preferred choice for customers in Israel.
Likewise, Goodfirms analyzed Profisea and found the company grabs GoodFirms' user's attention by offering vital services based on these metrics.
Cloud Computing Services
Profisea offers you cloud hosting solutions with choices of OS, applications, and scalability over your public cloud. All solutions are custom-designed by cloud engineers and are backed by their low-latency route optimization engine for maximum network performance.
As a top-notch cloud computing provider, Profisea offers the most extensive range of cloud hosting services designed to allow you to work seamlessly. With public, private, and virtual personal cloud options and on-demand cloud services offering rapid deployment for various niche industries, the DevOps support clients no matter how complex their requirements are.
Profisea's AWS/Microsoft Azure/Google Cloud-certified cloud experts allow you to work with compliance, and intuitive load balancing solutions ensure that performance is always maximized. Profisea professionals always focus on low latency and exceptional network performance to ensure that your workloads are supported no matter the capacity.
Thus, providing extraordinary cloud computing services based on customers' requirements would soon facilitate Profisea, dubbed as one of the top cloud computing companies in Israel at GoodFirms.
DevOps Services
Profisea's DevOps services are the cornerstone of modern software development. The DevOps engineers of Profisea incorporate DevOps processes in your organization and use modern tools that complement their frameworks.
The DevOps engineers automate customers' cloud infrastructure and procedures while ensuring continuous integration and delivery to quickly get your product to the market. Profisea's industry-leading DevOps services and market-validated DevOps best practices bring a feature-rich product to the market in a lower timeframe and cost.
The DevOps service offering helps organizations align with the goals rapidly and reliably, producing high-quality software-based products and services. DevOps automate the end-to-end delivery pipeline across cloud platforms for faster time to market, increased efficiency, and reduced cost.
The engineers provide customers with services encompassing several capabilities, such as smooth cloud migration, streamlined cloud architecture setup, cloud infrastructure management, well-designed CI/CD pipelines, improved security, automated testing techniques, and efficient cloud cost optimization strategy.
About the Author
Anna Stark is presently working as a Content Writer with GoodFirms – Washington D.C. based B2B Research Company, which bridges the gap between service seekers and service providers. Anna's current role lingers to shape every company's performance and key attributes into words. She firmly believes in the magic of words and equips new strategies that work, always with ideas, something new to carve, and something original to decorate the firm's identity.