DevOps Consulting for Startups, SMBs, and Large Enterprises: Contrasting Motives – One Solution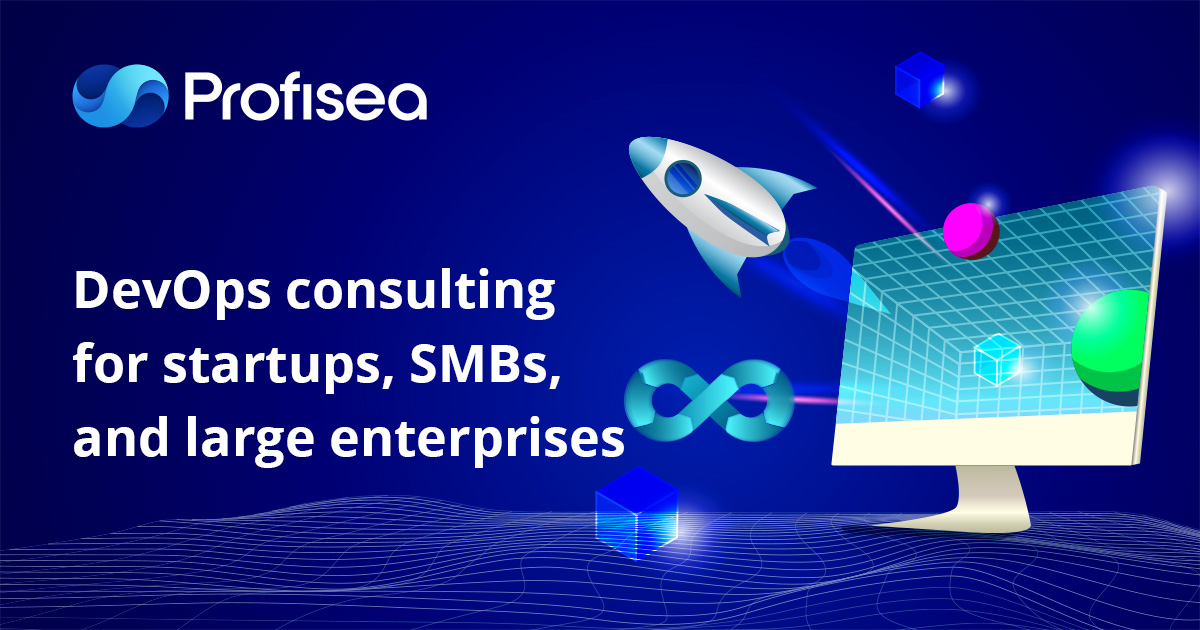 Startups, SMBs, and large enterprises have common and obvious goals – increasing customer bases and making profits. In today's IT, workloads have become cloud-based (94%), and DevOps consulting helps streamline, fasten deployment and boost business growth.
Top Reasons to Invest in DevOps
According to the Google Cloud Accelerate State of DevOps 2021 report, teams that actively implement DevOps, compared to units with an insufficiently developed DevOps, demonstrate: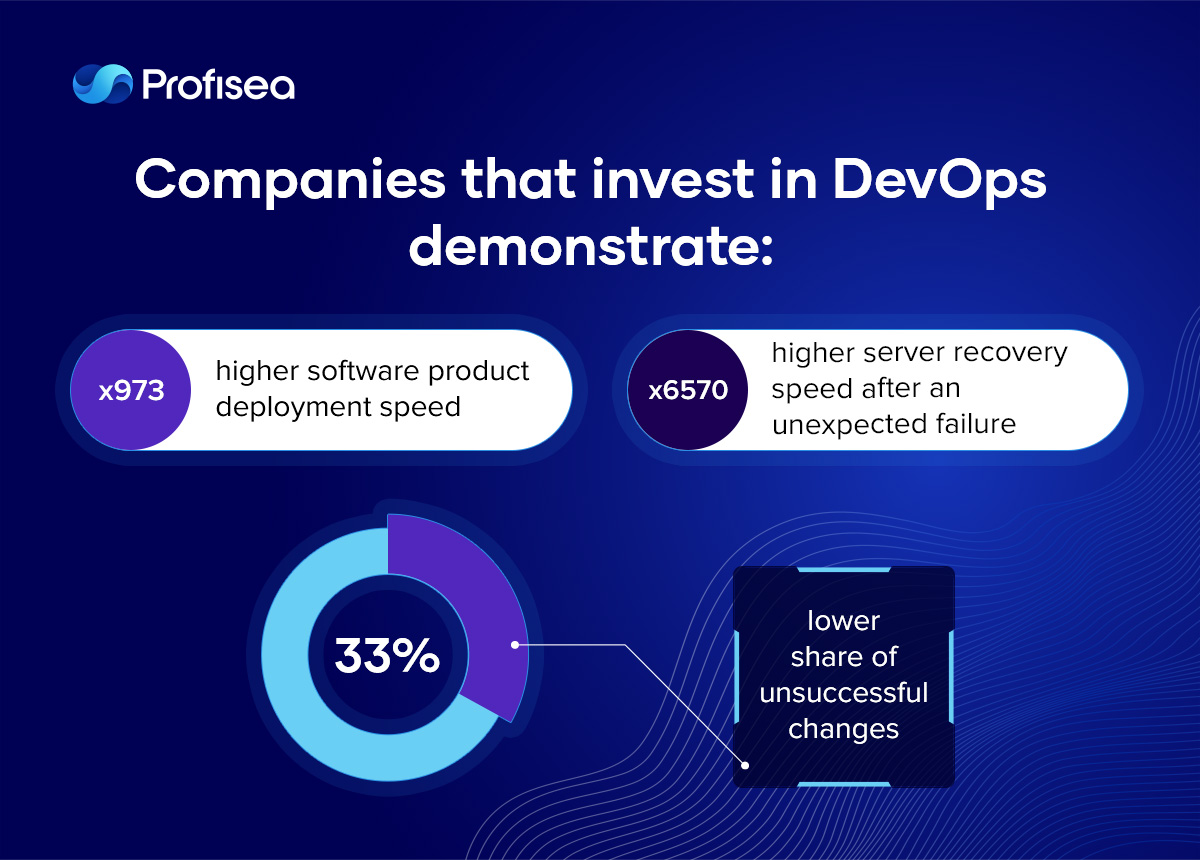 When you decide to introduce the DevOps philosophy within the company, two options are obvious:
1) you create an in-house DevOps team, or
2) you address mature DevOps companies for DevOps services and DevOps consulting.
Since DevOps consulting is the most cost-efficient way to introduce DevOps within the company, we'll describe this type of service for startups, SMBs, and large enterprises. But first, let's just list the main reasons for implementing DevOps: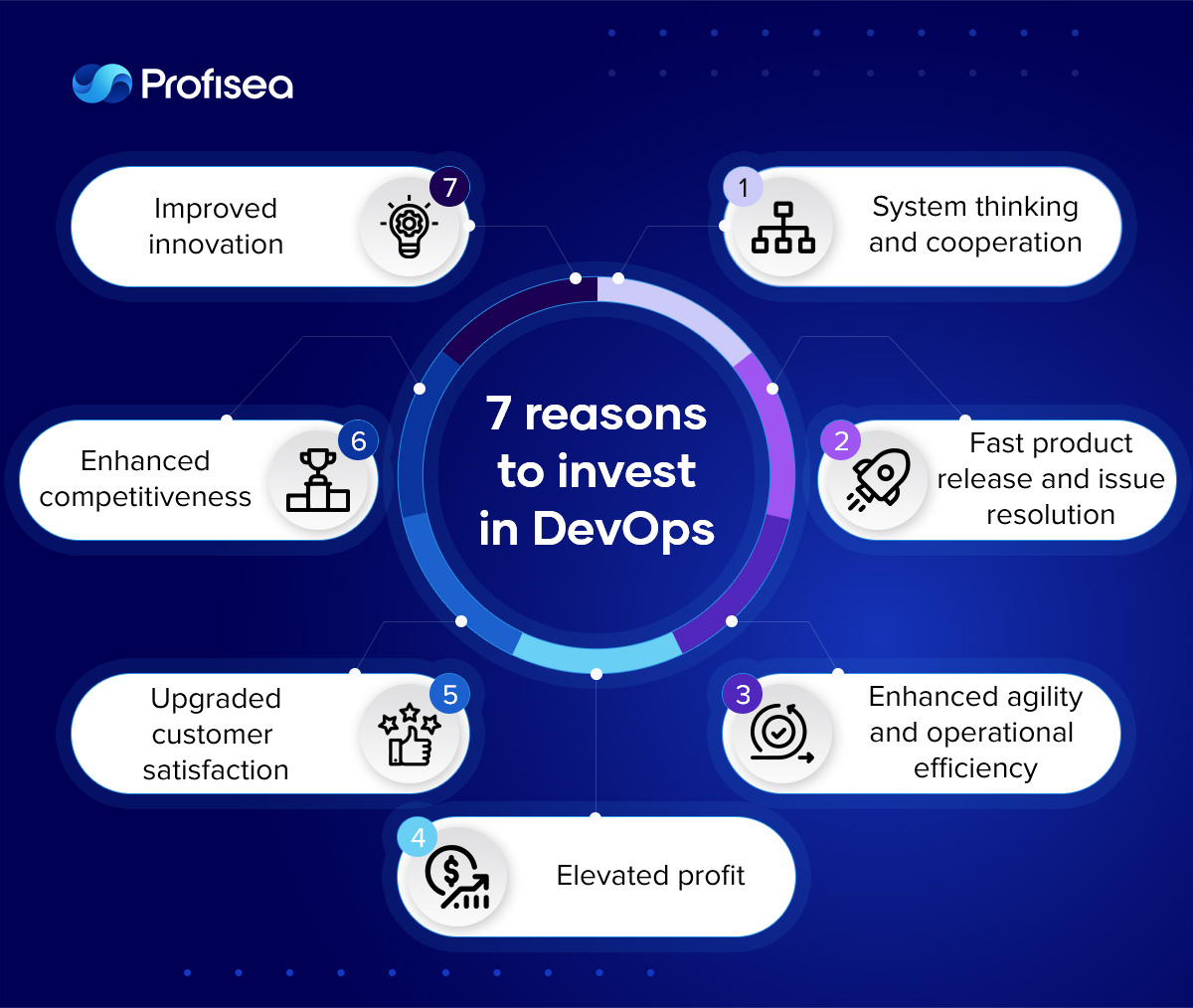 1. System thinking and cooperation. Effective communication between the operations and development teams is enhanced by a DevOps platform that enables systems thinking and increases productivity.
2. Fast product release and issue resolution. DevOps methodology involves the automation of routine processes. This way, the software reaches the end user faster, and the waiting time is diverted to another project.
3. Enhanced agility and operational efficiency. According to the study "The impact of agility: How to shape your organization to compete," agile transformations deliver 30% gains in efficiency, customer satisfaction, employee engagement, and operational productivity.
4. Elevated profit. Businesses can get a much faster return on their IT investment and start making net profits by implementing new updates and fixing bugs faster.
5. Upgraded customer satisfaction. Companies can receive up-to-date customer feedback about their needs and preferences by implementing automated monitoring, analytics, and frequent updates. According to Puppet's status of DevOps 2021 report, such companies demonstrate x200 higher development frequency and x3 less probability of failure.
6. Enhanced competitiveness. There is a strong correlation between high-performing IT departments using DevOps practices and overall company profitability. Another study shows that companies with DevOps are up to 21% faster on the market.
7. Improved innovation. DevOps methodology gives developers the push they need to finish coding faster. It means they can spend more effort and time innovating different app ideas and coding techniques.
What is DevOps Consulting?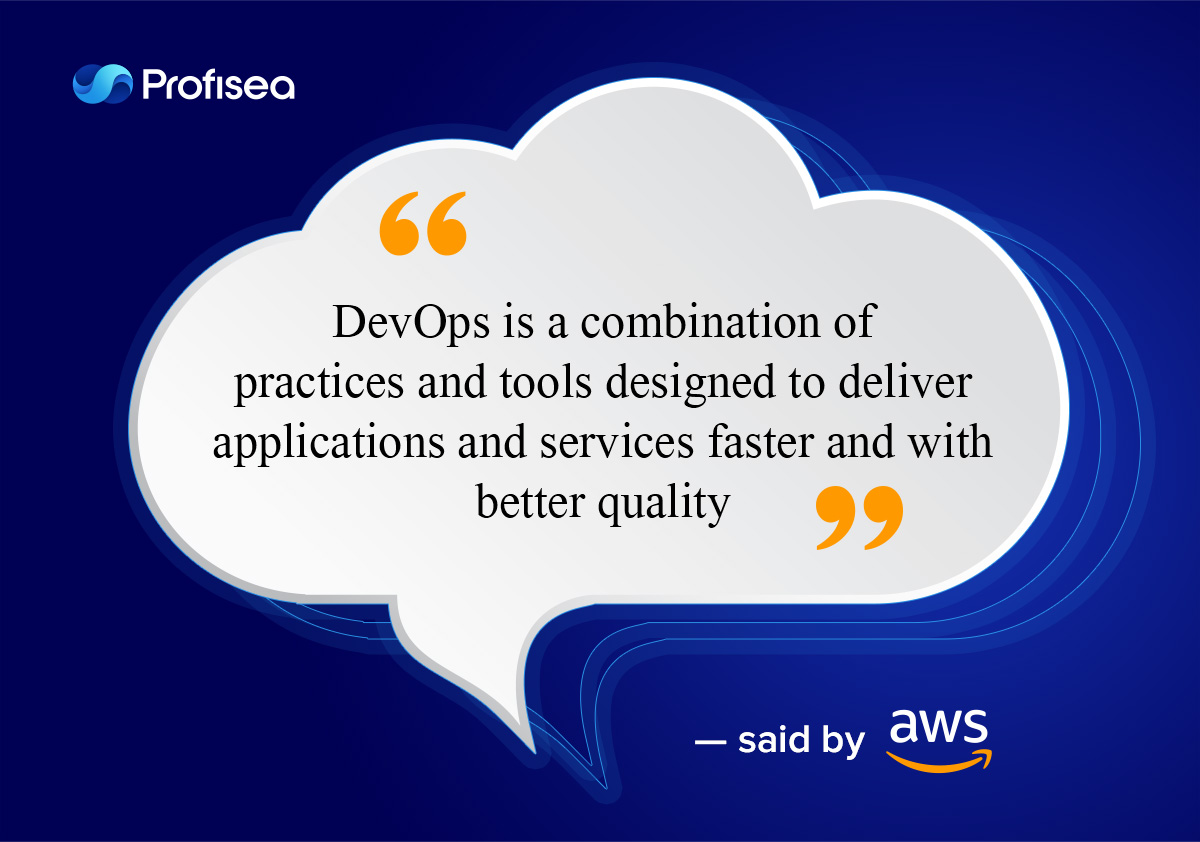 The main idea of DevOps consulting is to provide a wide array of DevOps services from start to finish so that a customer could improve developer productivity, automate workflows and reduce human error during the development and operations process. As a result, businesses deliver faster and improve product quality.
As a rule, DevOps consulting is engaged temporarily to provide advice on the implementation or training of the customers' employees on how to use best DevOps practices and technologies, like Kubernetes, GitHub, Grafana, Prometheus, Elastic Stack, Jenkins, Terraform, Docker, etc. and efficiently cooperate with leading cloud service providers like Amazon Web Services, Microsoft Azure, Google Cloud Platform. The exact scope of DevOps consulting services depends on the needs and business resources.
DevOps Consulting for Startups and SMBs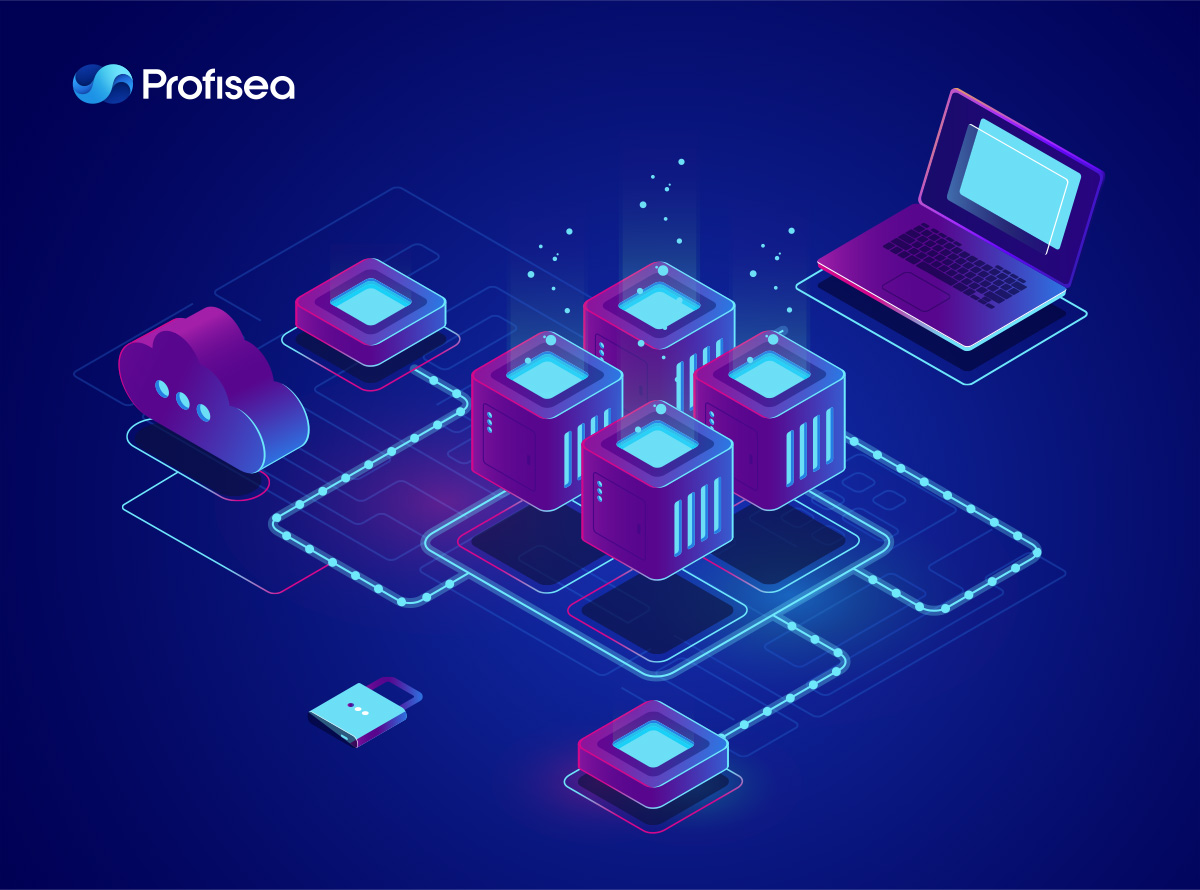 Only 1 in 12 new business entrepreneurs succeed, says Startup Genome. The main reason for failure is the wrong approach to internal business processes.
Our experience proves DevOps technology plays a vital role in any startup or SMB. According to Statista, almost 80% of respondents believe that DevOps is at least somewhat important, with nearly half claiming it is extremely crucial. Therefore, DevOps is your hero if you want your startup or SMB to become a part of the 80% winner group.
The main motive for startups and SMBs to address their challenges to DevOps consulting is a lack of time and financing to create an in-house DevOps department and use a professional DevOps company's full range of services.
In such a situation, a startup or SMB can try to master the DevOps methodology and set up all the processes independently. But new knowledge requires additional financial costs. Like any training, it also requires a certain long period. And more importantly, you will have to put the acquired knowledge into practice using the base of your own business. In case of failure, it is not the best platform for experiments! And at the scale of a startup and SMB, DevOps consulting services help create a road map for the correct construction of all business processes, giving the company an undeniable advantage over competitors.
While DevOps may seem difficult to implement, it provides long-term benefits once you get professional support. Having exceptional DevOps consulting may cost you a little, but it can make a difference in the market of startups and SMBs.
DevOps Consulting for Large Enterprises
Another way to introduce DevOps deals with an additional cost item in the company's budget – the creation of an in-house DevOps department. The undoubted advantage is the recruitment of professionally trained DevOps specialists. However, today the market for really high-quality DevOps specialists is quite low. Hiring for DevOps is a time-consuming and expensive challenge. A quick search on LinkedIn for the keyword "DevOps" shows over 1.2 million results with 642,000 professionals who identify as DevOps engineers.
Another challenging aspect of the hiring process is being able to screen all potential candidates. According to DevOps Institute's Upskilling 2020: Enterprise DevOps Skills Report, 58% of respondents said finding skilled DevOps individuals is challenging, and 48% say retaining skilled DevOps professionals is difficult.
Financially, it will also be costly. The average cost of a DevOps engineer in the United States is between $180,000 and $250,000 per year. Salaries for experienced DevOps engineers can reach beyond $179,250, according to the Robert Half Technology 2020 Salary Guide. The DevOps profile requires the same person to have operational and security experience as well as programming. In this regard, large enterprises should always consider an alternative option – DevOps consulting.
Also, forming a new DevOps department, you have to understand that gradually your in-house DevOps specialists get used to one scope of tasks and one type of project. A new project with alternative demands might be a challenge for them. Hiring new specialists with the appropriate skills and expertise is not an option here. DevOps consulting comes into play here, proving that DevOps outsourcing companies' goals can be adapted to the specific needs of any business. DevOps professionals with certificate-proven tech skills and profound experience provide vast expertise in various fields, including understanding best DevOps practices, DevOps toolchain, security skills, automation skills involving CI/CD art, and so on. Bearing in mind that large enterprises often do not need a broad scope of DevOps services – DevOps consulting is the way out!
Conclusion
Professional DevOps consulting is a unified solution, equally suitable for startups, SMBs, and large companies. It does not require high financial costs and, in some cases, can be free. Thus, startups, SMBs, and large companies benefit from properly configuring processes, infrastructure modernization, and the software necessary to automate daily deployment.