What is NOC And Why Profisea's NOC is the Best in Class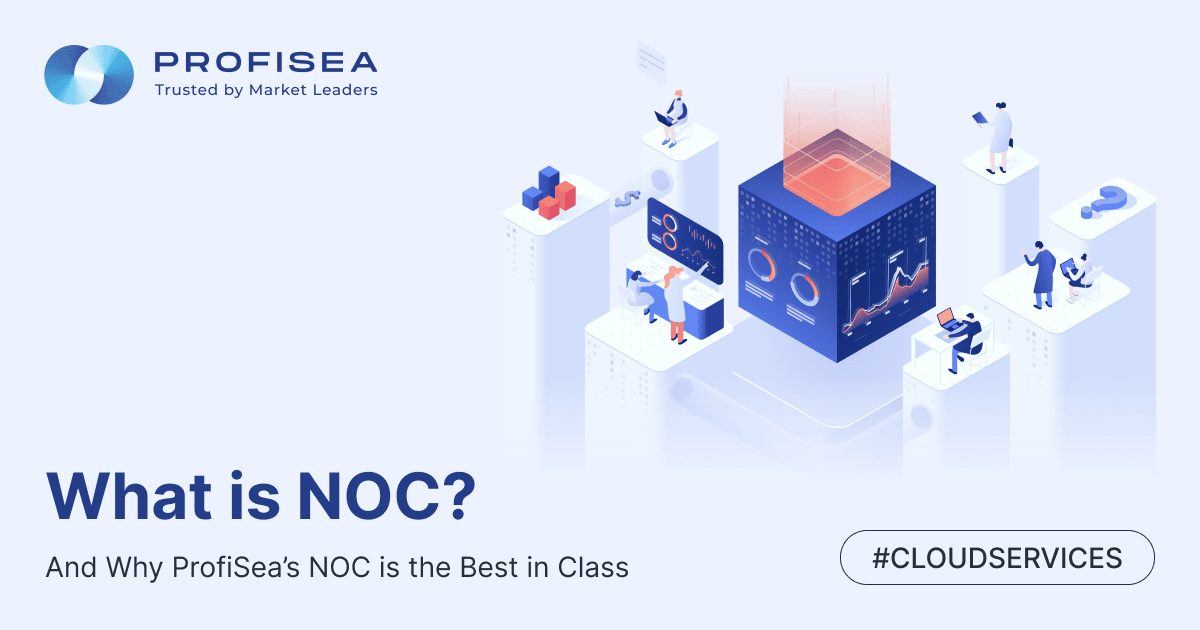 Service disruptions are an unfortunate reality IT enterprises must deal with whether they desire to or not. In the era of cloud computing, suppliers and customers rely on redundant systems, backups, and a range of disaster mitigation systems to reduce the risk of outrage. However, the biggest disruptions to cloud computing are due to the pioneers of cloud infrastructure technologies. For instance, a massive internet disruption in July 2021, briefly took out a wide range of major corporate websites — from FedEx to McDonald's. The outages coincided with reports of system disruptions from Akamai (AKAM) and Oracle (ORCL) — two key providers of internet infrastructure services. Later that afternoon, Akamai explained the outage was caused by a "software configuration update triggered a bug in the DNS system."
No one is immune to all sorts of contingencies ranging from ISP outrages to human error, on the other hand, handling IT disruptions ASAP is our clear duty since outage/downtime losses are huge. According to Gartner, the average cost of IT downtime is $5,600 per minute. And there are much more appealing casualties like productivity reduction and business reputation loss. According to Infrascale, 37% of SMBs in the survey group said they have lost customers and 17% have lost revenue due to downtime.
Here is when NOC (network operations center) saves the day providing a centralized location where IT teams can continuously monitor the performance and health of an entire infrastructure serving as the first line of defense against system disruptions and failures.
What is NOC?
Let's think about the Internet as a good case of one of the items NOC monitors. If there is a bottleneck on the Internet, or a major link has gone down somewhere, NOC knows about it and works on resolving the issue. How does this sound to you? Pretty cool! Network Operations Center (NOC) is a centralized facility where IT professionals monitor, manage, and respond to alerts when critical system elements fail.
NOC's perfect formula is:

NOC uses software tools to monitor technology assets via protocols like Simple Network Management Protocol (SNMP) to get in touch with system devices, determine their status and get back with this data to a centralized control panel where the NOC team takes action. NOCs are important components in a Technology Service Provider or Large Enterprise approach towards IT management. With NOC, IT organizations resolve issues proactively but not reactively. NOC engineers and technicians are in charge of monitoring the health, safety, and capacity of infrastructure in a customer's environment. They make decisions and adjustments to ensure excellent organizational performance.
With that, a pretty logical question arises — in-house NOC or NOC-as-a-service? NOC-as-a-Service is not a one-size-fits-all, but a quite practical option, and in the case of a company sourcing the NOC-as-a-Service compared to deploying and managing a NOC in-house can get rather powerful benefits:
Reduced CAPEX. Addressing your network issues to a mature service company that has already made the CAPEX investments to inaugurate NOC is more cost-efficient than a company hiring and deploying a professional NOC in-house team and handling all the costs.
Reduced OPEX. Professional NOC service providers can share OPEX-related fixed costs and therefore enable service at a lower cost compared to a customer operating an in-house NOC.
Improved team productivity. With NOC-as-a-service, in-house engineers can focus on more creative tasks, while boosting positive customer experience notably.
Why Profisea's NOC?
Israeli DevOps company Profisea provides NOC or CIOC (Cloud Infrastructure Operation Center), to be exact, as one of our various services. Profisea's Israeli-Ukrainian professional team supervise, monitor, and maintain the entire cloud infrastructure and related services to ensure the high availability of critical business services. Our AWS certified engineers keep a close eye on the cloud infrastructure to ensure the system uptime is not compromised due to malware, system errors, or other issues.
We are available 24/7. Our duty roster is scheduled and our partners have access to it. There is a virtual US phone number – a "hot number" that can be used for automatic call back to the engineer.
We fully automated incident monitoring and made a template out of it. It takes us two days to deploy this system. It means we provide a turn-key NOC: ready-made team, ready-made monitoring, and we have it fully automated.
We integrate with many services. We monitor AWS infrastructures and systems. Plus, we monitor the application itself. It means we monitor not only our partner's infrastructure but also all the dependencies that it has, even the mail server.
We are a Kubernetes-ready monitoring NOC team. We are Kubernetes experienced, which is a rare situation even with DevOps teams.
We have DevOps engineers on duty together with the NOC team. We schedule DevOps engineers' shifts and in case of an incident, he/she should join the NOC team and deal with it.
We react before an incident happens. Our NOC team's main goal is to prevent problems. We receive an incident, and it does not mean that something has fallen – it means that something begins to be suspicious.
Final thoughts: which NOC player is yours?
With NOCs, organizations gain complete system visibility, so they can detect anomalies and either take action to prevent problems or quickly resolve problems as they arise. NOC controls infrastructure and equipment from wiring to servers, including IoT devices and smartphones. NOC, when implemented correctly, manages integrationing with online customer tools and all involved services. Profisea provides NOC 24/7 services of the most reliable monitoring, maintaining, and administering for your Cloud infrastructure. So, if you're game, what player would be on your team?