5 Causes of Cloud Cost swelling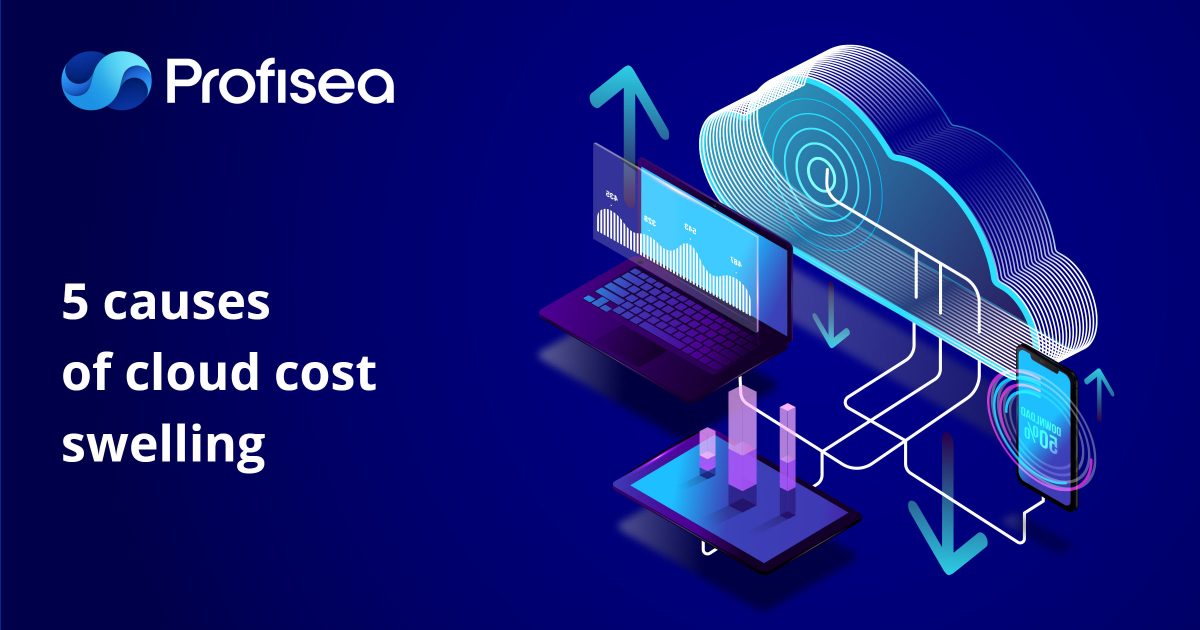 We live in a world where the famous Nathan Rothschild's "who owns the data owns the future" was embased by humans too literally. And they became practically obsessed with generating a bazillion amounts of data daily. Don't get me wrong, I think Mr. Rothschild is right, and information drives the evolution, but let us focus on the insane data volumes that must be collected and stored correctly. After all, in the Arcserve Data Attack Surface report, Cybersecurity Ventures predicts that we will have 200 ZB of data by 2025. And 60% of this data is stored in the cloud, Statista claims.
Year after year, shared, private, and hybrid cloud solutions capture an increasing share of the IT infrastructure market from on-premise solutions, highlighting cloud spending as a significant concern for companies. According to Flexera, 81% of responders name cloud costs a painful matter, regretting that more than 30% of their cloud spending is thrown down the drain. So what causes cloud cost ballooning? In this work, we will pay much attention to this matter.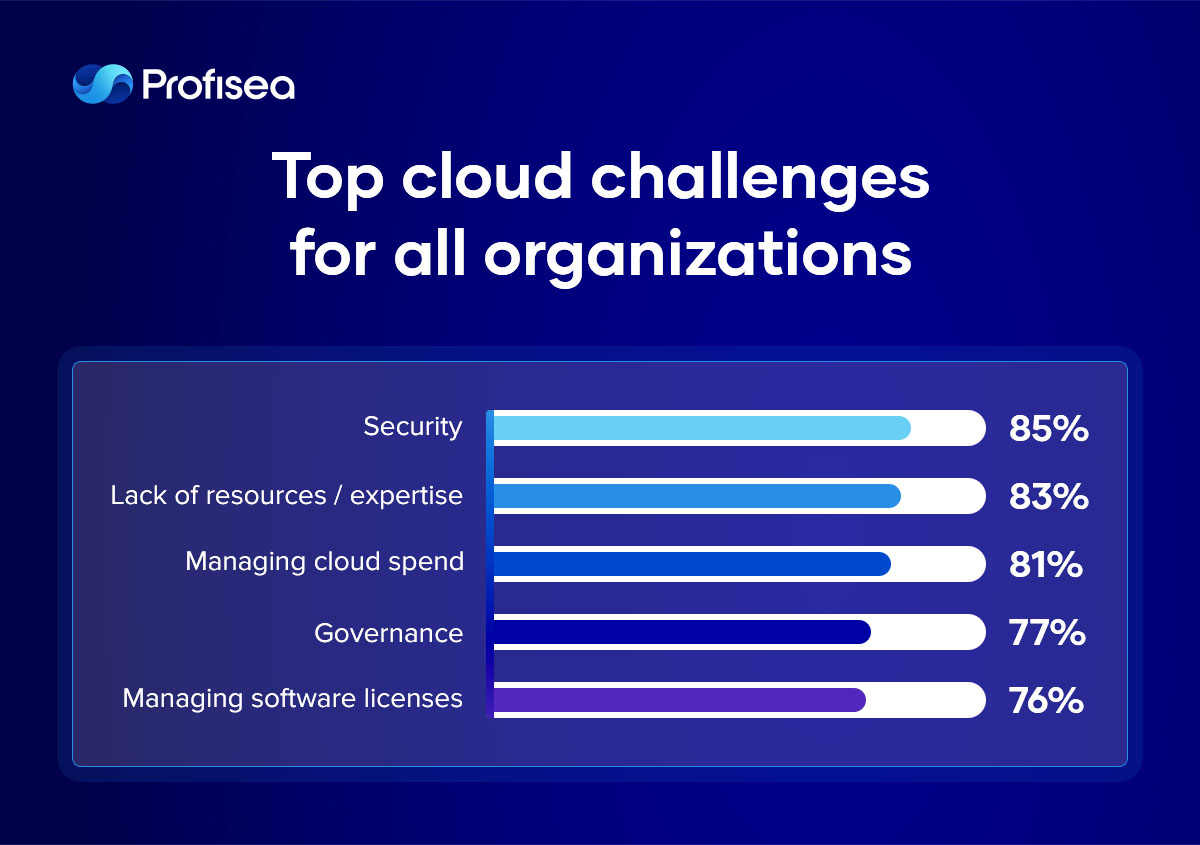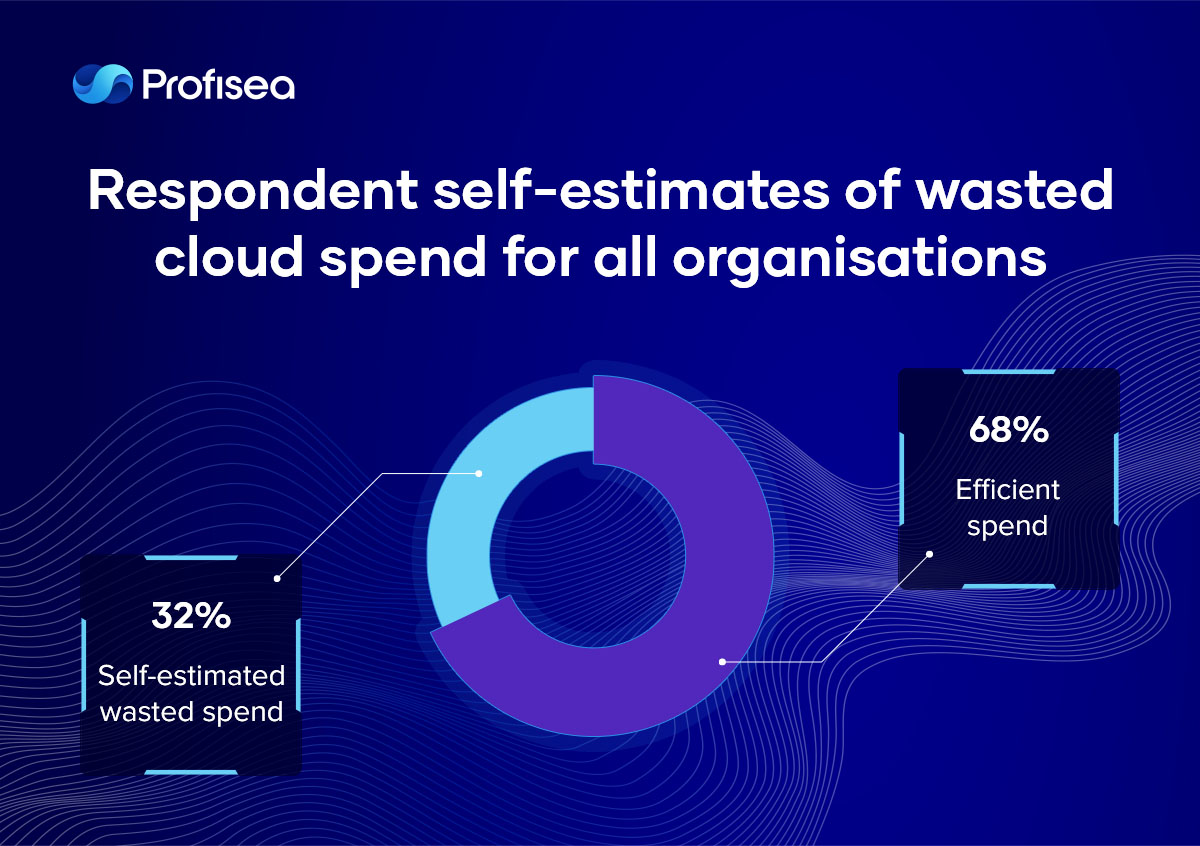 5 causes of Cloud Cost swelling
1. The complexity of Cloud Pricing and lack of Cloud Visibility
Cloud service pricing is complex. Does this statement sound familiar? Of course, it does. You experience this headache monthly when you get a cloud bill that can be 50 pages long. Now, it's impossible to calculate the cost of infrastructure services manually. Thus, get ready to forget about using spreadsheets because of these three reasons:
Cost forecasting is challenging
Service actual price might differ from the listed on a cloud provider's website
You will find it difficult to control and protect what you cannot see. Why do so many organizations do very little to provide complete visibility and control over their multi-account environments? What if infrastructures are multi-cloud?
DevOps engineers have used a combination of monitoring solutions from Grfana Labs (Grafana and Prometheus) for visualization and data storage for eight years. And while leveraging these brings quite an effective visualization to your cloud, setting up and maintaining these continuous monitoring pipelines requires significant time and involvement from DevOps experts.
2. Over-provisioning
Any cloud service you buy (at the lowest possible price) should match the capacity and performance of your workloads by size and type. Additionally, it's essential to test deployed instances for opportunities to remove or collapse them without harming the business's health. That's how the cloud costs are saved. However, while rightsizing is a crucial mechanism for optimizing cloud spending, organizations often neglect the onboarding process when moving to the cloud. Quite often, IT leaders are looking to "lift and move" their infrastructure, deferring the size of instances for the future.
In addition, many IT managers, out of fear of under-provisioning function by the rule – the more is, the better, recruiting many large-scale services even for small capacities. Hasty decisions, where speed and expected successful performance are prioritized over cost, leave organizations overwhelmed with missized services and large amounts of unused resources.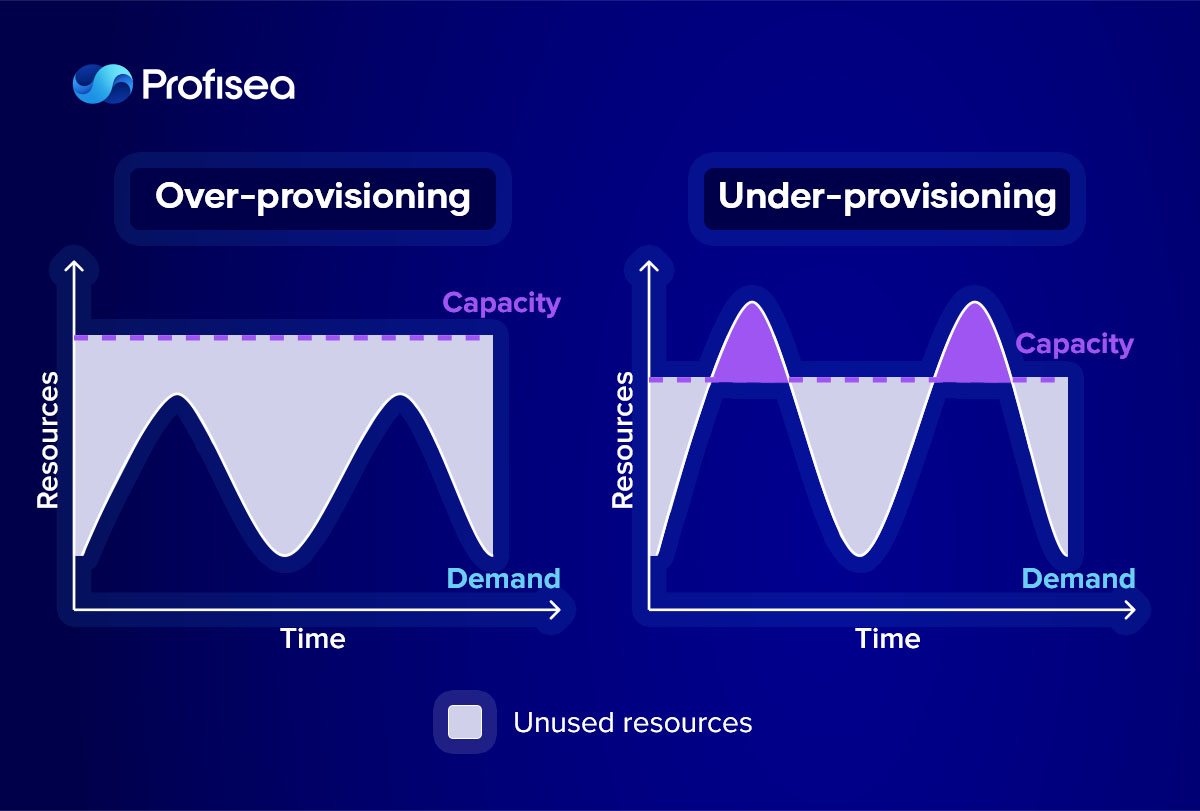 3. Idle resources
What if unused resources did accumulate? Like any other waste, cloud waste piles up when:
Resources are unmanaged
Resources are too large or too many of them
Resources are lost
Saving options are overseen
Regular health checks and cleaning are not performed
Therefore, we can see, analyze and detect unmanaged and lost resources by setting up the correct visualization and visibility in the cloud environment with the help of modern tools and platforms. What to do when cloud waste is discovered? The solution can be either DevOps experts provide regular cleaning manually or use a platform that helps visualize the cloud infrastructure and manages cloud junk right there, with 1-2 clicks of the mouse.
4. Resources function 24/7
CSPs (Cloud Service Providers) promote a pay-as-you-go pricing model, which means that around 50% of any organization's resources, away from production processes such as development or quality control, do not require running solutions 24/7.
Top CSPs help users involve Instance scheduling in their cloud cost optimization strategy, Offering cloud-native tools like AWS Instance Scheduler, Google Cloud Scheduler, and Azure Logic Apps (formerly Azure Scheduler).
Although these solutions appear simple to deploy, some hidden complexities can arise in their implementation, configuration, and maintenance. Multiply these challenges with the complex environment of an organization with lots of accounts and isolated teams. And we get a confusing picture of scheduling constraints that only professional cloud experts armed with state-of-art technology and practices can address.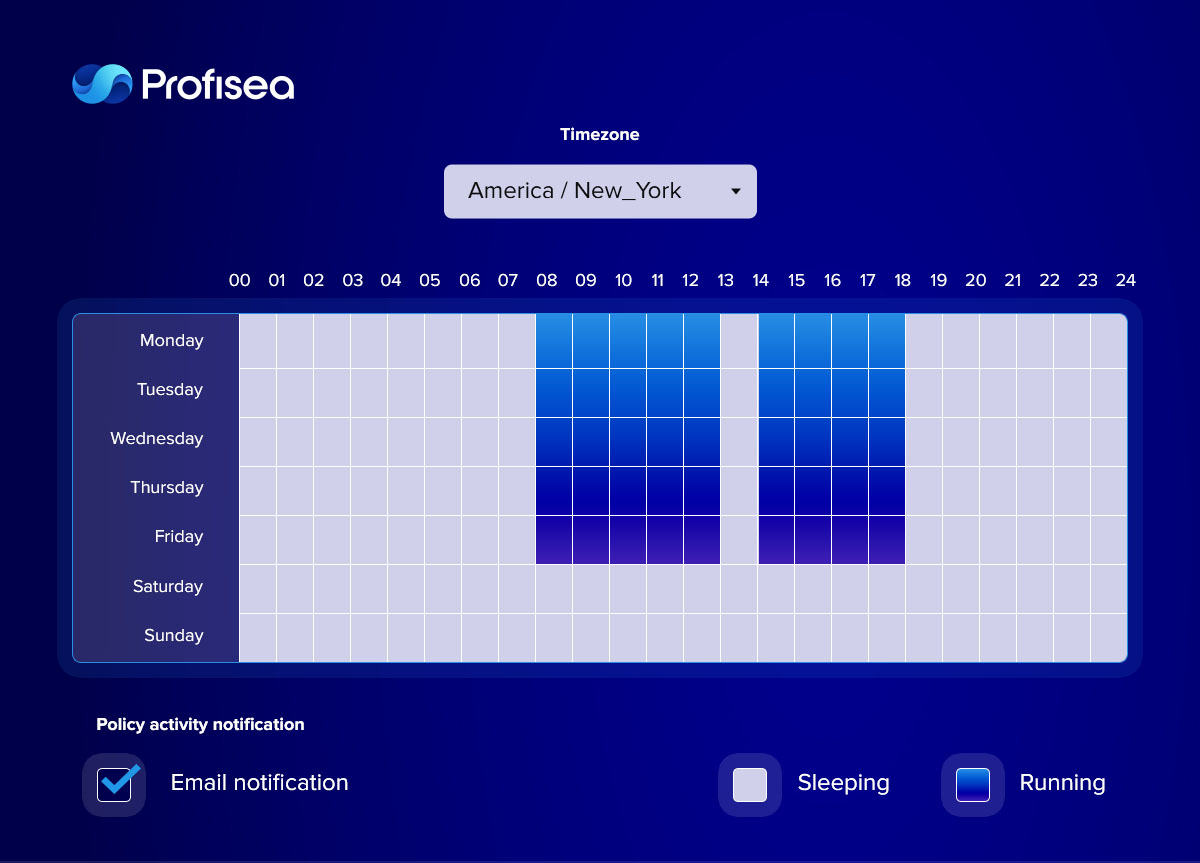 5. Neglecting pricing opportunities like Spotting, RI's, and Saving Plans
Considering all the benefits, it is an excellent idea to design an IT environment on clouds. Yet, I'd be a billionaire if I had a nickel whenever customers say it's expensive to run workloads on AWS, GCP, or Microsoft Azure. However, it doesn't have to be costly if you know about saving options like Reserved Instances (RIs), Saving Plans, and Spots.
Reserved Instances are a financial commitment to book low-priced capacity for one or three years
Saving Plans is an alternative to RIs, when you take a specific volume of resources for a certain period, and no one cares how you use them
Spots happen when someone buys resources and doesn't make 100% use of them. We can repurchase them at a crazy discount of up to 90% and reuse them. Such resources are temporary because they can be taken after a 30-120 second notification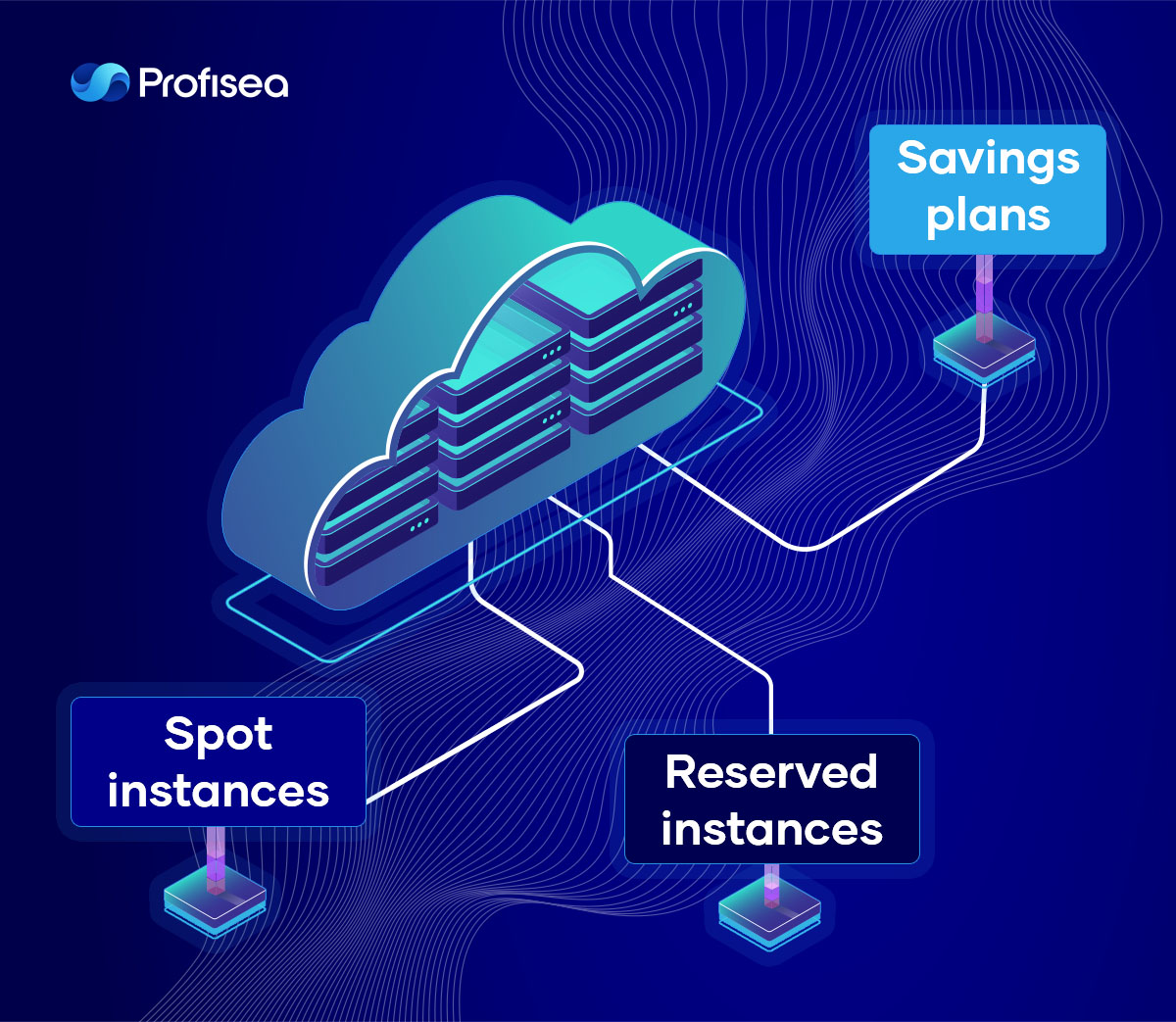 When deciding which savings model is best for you, gather and analyze information about your needs, develop a detailed plan, and make sure you have all the solutions and tools you need to implement that plan properly. Or you can always shake hands with experienced DevOps engineers who will architect your organization's balanced cost optimization strategy.
Bottom line
The challenge of gaining visibility to control cloud costs and developing an optimal cost optimization strategy for your organization has led to the "FinOps" methodology rise. FinOps is "the evolving cloud financial management discipline that enables organizations to maximize business value by helping engineering, finance, technology, and business teams collaborate on data-based cost decisions."
Profisea's experienced Cloud FinOps experts will temporarily join your team to develop a well-architected FinOps strategy based on best FinOps practices that will drive your organization's evolution, effectively handling cloud cost swelling.
Profisea saluted as Amazon RDS Delivery Partner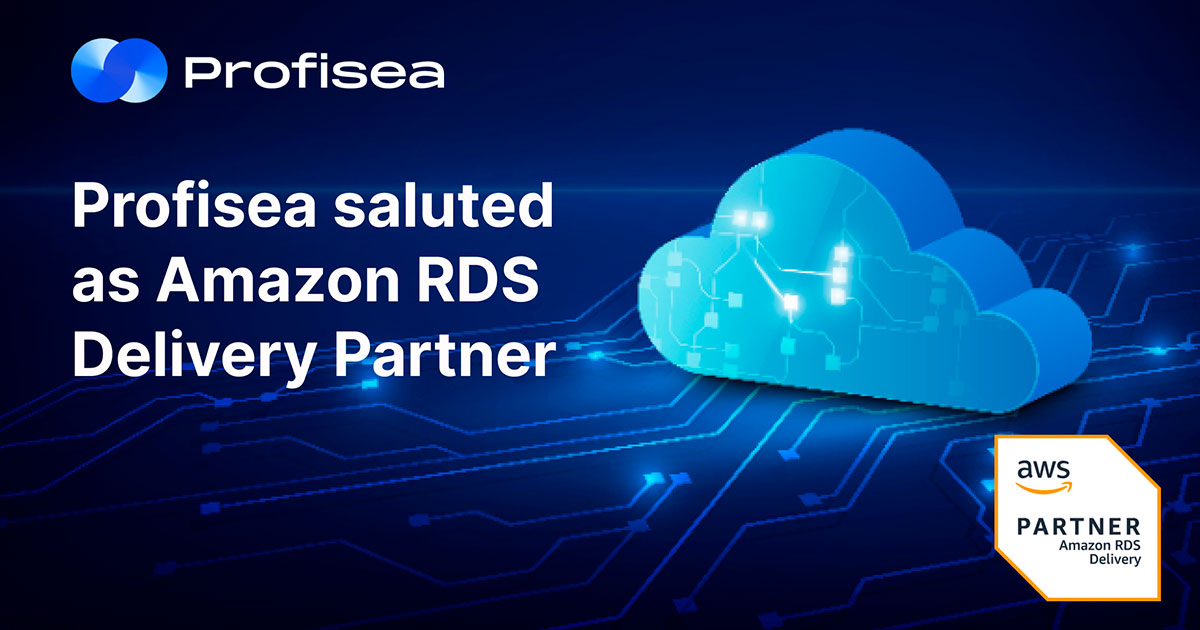 Profisea, a leading Israeli DevOps and Cloud boutique company with more than seven years of experience in Cloud Migration, Optimization, and Management services, has received Amazon RDS Delivery Partner Designation.  
Profisea, whose team of experts is known for best industry practices and top-notch AWS services, including relational database services (RDS) for open-source database engines such as MySQL and PostgreSQL, empowers customer-tailored software release pipelines through cloud environments to accelerate time-to-market at a lower cost. 
AWS – most broadly adopted cloud platform
Amazon Web Services (AWS), Amazon's cloud computing division, heads the leader list in the cloud industry market for several years, providing computing, storage, database, and many other services. AWS provides relational database services (RDS) for open source database engines  (MySQL and PostgreSQL) with various computing, memory, and storage options tailored to different workloads. Amazon RDS also offers multi-availability zone capabilities in most AWS regions to provide automatic failover and improve application availability.
Profisea recognized as Amazon RDS Delivery Partner
As an Amazon RDS Delivery Partner, Profisea designs and implements well-architected database architectures helping facilitate faster collaboration for our customers' teams by taking care of the following DevOps tasks:
establishing data multi-operational mechanism of large data volumes 
implementing well-engineered business logic for data operations
setting up automated data backups and an effective disaster recovery plan
enabling high-availability of database environments via various Availability Zones
ensuring the safety of sensitive data via Amazon RDS encryption
enabling continuous data reading, data analytics, and reporting processes 
guaranteeing and upholding a 99.999% uptime and enhanced fault tolerance capabilities
improving infrastructure maintainability and operability due to well-rounded automation with Amazon RDS
increasing the teams' productivity due to complete automation of previously manual data management processes
setting up continuous monitoring, notification systems, and continuous vulnerability checks for database workloads.
Certified AWS Partner to take you on a cloud journey
Profisea experts are capable of humanizing technology by carefully studying the requirements of our customers/partners and collaboratively developing customized cloud solutions that perfectly fit your business needs. Profisea specialists become part of your team and implement DevOps best practices to design, build, operate, secure, and scale unique cloud environments with the sole goal of maximizing performance, enabling faster deployment, improving product quality, and reducing time to market.
Top 2021 DevOps & CloudOps Conferences You Don't Want to Miss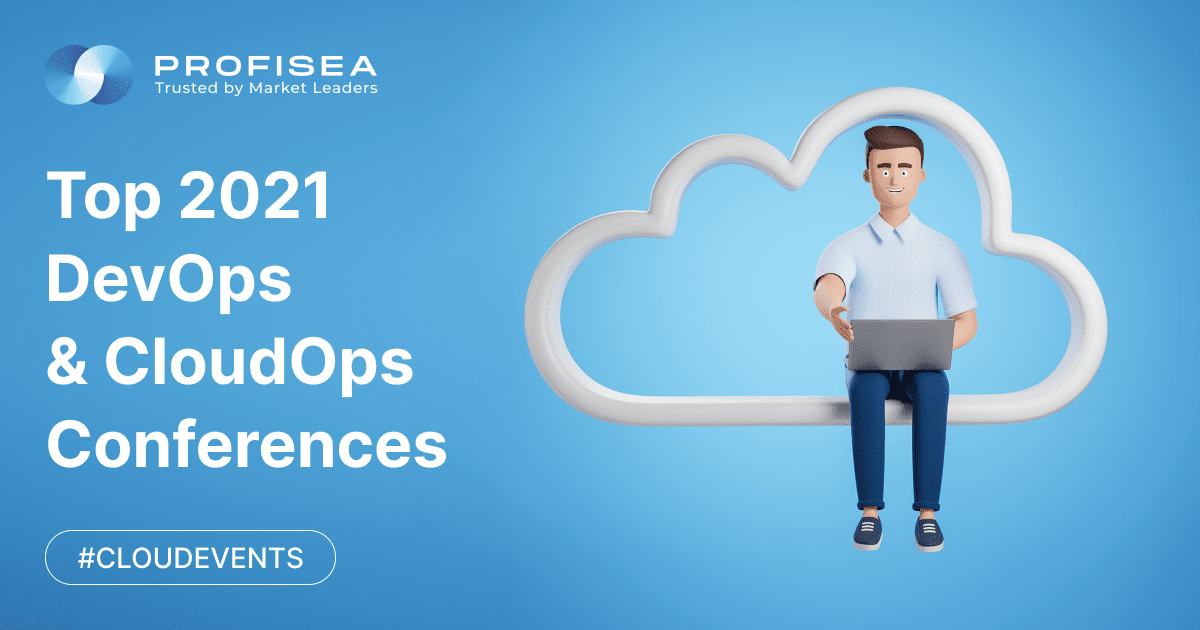 It is very difficult to assess the benefits of participating in a conference. In truth, contacting other experts is undoubtedly the most important one. You can be a junior or mid-range developer and you can meet a senior DevOps team leader with years of experience that can completely change the way you think about this subject. During conferences, you can get acquainted with the real icons of their craft. Each conference's main goal is to promote advanced research and the latest technologies, research, development, exchange of ideas and, of course, networking. As such, in this article, we'll discuss why DevOps engineers, IT leaders, and every DevOps-devoted person should attend DevOps/CloudOps conferences, which of them are worth attending in 2021, and how to get the most out of the conference.
Conference: reasons to attend
What are the main reasons to become a conference participant or speaker :
Feedback. You can receive an expert opinion on your latest work. It doesn't matter whether you are this conference speaker or not, you can discuss your recent achievements with your colleagues to hear their honest opinion. Plus, experts will definitely provide you with many helpful tips and advice.
Growth & development. While attending a conference, you learn about the latest discoveries in your field even before they are published because many experts try to demonstrate results that have not yet been published in the world at conferences.
Upgrade. You improve your skills at conferences including interpersonal skills, communication skills, both oral and written. You totally work on your listening skills and get precious debate experience when engaging in discussions at conferences.
Networking. You are creating a system of connection that helps you build networks with people who are real experts in your field. Quite often, you need the advice of an experienced professional, and the easiest way to talk to such an expert is to chat with him/her during a conference.
Fine CV line. IT managers pay close attention to how candidates are developing and what they are doing to keep the process moving forward. It's great when this line appears in your resume.
2021 DevOps & CloudOps Conferences worth attending
Name: DevOps World
Date: September 29-30, 2021
Place: Virtual
Price: Free
DevOps World is a chance to gain inspiration from experts and peers and tools you need to shape the future of software delivery in your organization. It serves the entire DevOps ecosystem and brings together opinion leaders, practitioners and community members from around the world, giving members the opportunity to learn, explore, virtualize, and together change the future of software delivery.
Name: Google Cloud Next
Date: October 12-14
Place: Virtual
Price: Free
In 2020, Google presented Cloud Next: OnAir, a virtual version of its annual cloud computing conference. Next '21 is for everyone — from developers to CEOs and everyone interested in exploring how cloud technology can help them solve their biggest business challenges. This year, you'll find that Next '21 is a customizable digital adventure, allowing you to easily create your very own personalized journey. Each day, you'll have the opportunity to engage with featured live experiences and attend on-demand content that aligns with your day, and your interests. How you build your learning journey at Next '21 is totally up to you.
Name: 2021 All Day DevOps
Date: October 28, 2021
Place: Virtual
Price: Free
All Day DevOps (ADDO) is the world's largest DevOps conference and has been running virtually for the last six years. The ADDO conference has 180+ speakers over 24 hours across six tracks — Continuous Everything, Modern Infrastructure, DevSecOps, Cultural Transformation, Site Reliability Engineering, and Government. With something to appeal to all on the agenda, technology teams across the world can look forward to exploring focus areas as well as seeing firsthand how other leading organizations are improving their DevOps practices.
Name: AWS re:Invent
Date: November 29 – December 3
Place: Las Vegas, NV
Price: TBD
As the dominant player in the market, AWS' flagship conference is the biggest event in cloud computing every year. It's typically held in Las Vegas the week after Thanksgiving. Hear the latest from AWS at re:Invent. Be the first to learn about new product launches and hear directly from AWS leaders as they share the latest advances in AWS technologies and set the future product direction.
Name: Gartner IT Infrastructure, Operations, and Cloud Strategies Conference
Date: December 6-8
Place: Las Vegas, NV/Virtual
Price: TBD
Gartner IT Infrastructure, Operations & Cloud Strategies Conference 2021 will focus on how to embrace change and meet the growing needs of the enterprise by optimizing workloads, increasing efficiency, and building resilient systems and teams. Take this opportunity to stay ahead of disruptive forces and future trends and influence the future of your business.
5 hacks to get the most out of a conference
Some conferences are quite helpful, but some of them can be frustrating and disappointing to the participants. Here are 5 tips to help you get the most out of your conference attendance.
Learn info about the conference from a credible source and consult people who already attended this conference. In this particular case, a rumor mill can be quite helpful when you get information from former participants on what sessions are worthy and so on.
Make a plan. Study the program the day before the conference and choose a couple of sessions and talks worth attending, but don't try to cover everything, you don't want to run like a hamster in a wheel.
Get in touch with organizers. Sometimes conference organizers need urgent help with ceremony management. Even a simple offer of your help will surely make you noticable.
Talk to people. Ask as many questions as you need and don't be afraid to sound overly assertive. True experts adore sharing their knowledge and experience. And make sure your name tag is visible.
Contact the people you meet at the conference afterward. Plus, if you enjoyed the conference, don't forget to compliment the organizers and post positive feedback on social media platforms.
Wrapping things up
Engineers must keep up with new technologies as the flexible nature of software means that IT professionals need to regularly acquire new skills, and seek new opportunities. It has never been more important to revitalize your experience, connect with other experts, share ideas, ask questions and get answers from colleagues and, as a result, enrich your profiles, especially as DevOps engineers. If you have any questions, please feel free to contact us and Profisea experts will help you with any DevOps and CloudOps-related issues you have and achieve the best-in-class DevOps-as-a-service for your business.
Microservices: Everything worth knowing!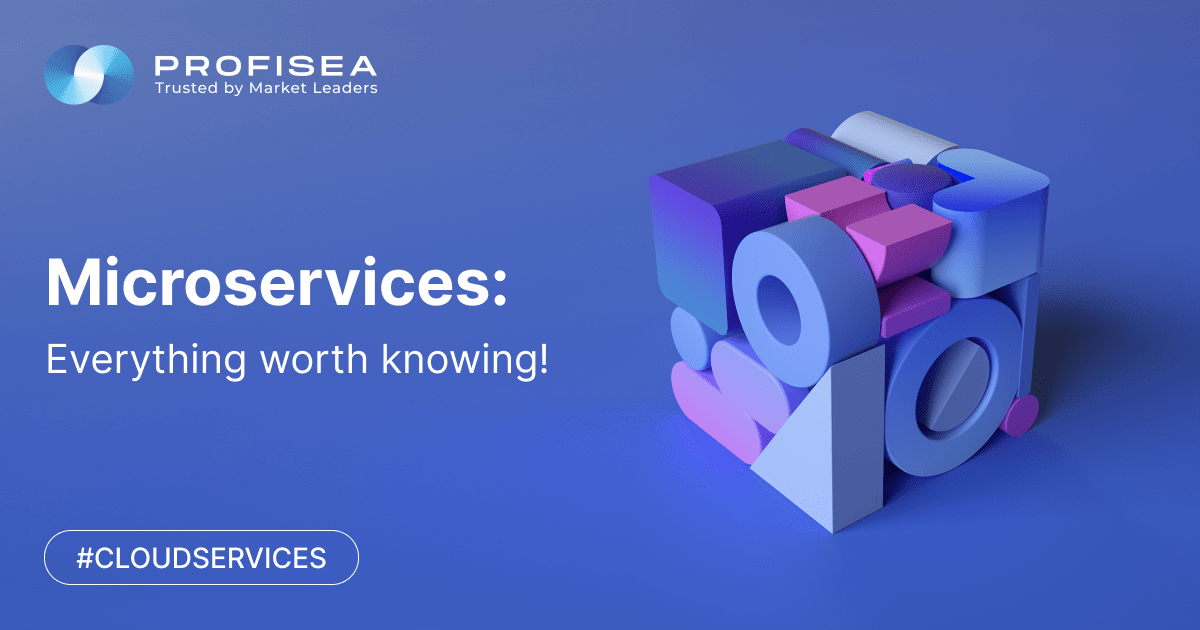 Monolith or Microservices? While IT companies are still debating on these architecture types, we, as a mature DevOps company successfully practicing microservice-style of software designing, decided to discuss the microservices main perks and more valuable microservice-related information. It makes perfect sense as according to Statista,
"in 2021, 85% of respondents from large organizations with 5,000 or more employees are currently using microservices which suggests that big enterprises are more likely to require microservice utilization in their operations". And according to O'Reilly's research "Microservices Adoption in 2020,"
77% of respondents (1,502 software engineers, systems and technical architects, engineers, and decision-makers from large and SMDOs) have adopted microservices, with 92% experiencing success with them.
Microservices: explained.
'Micro' means small, and microservices are a set of small, easily deployable applications that must execute business logic. By interacting with each other using various technologies such as API or HTTP protocols, these services are created separately from others and have completely autonomous deployment paths.
What are the pros and cons of microservice architecture? Microservices are better coordinated as the entire base is divided into smaller services that perform separate tasks. Considering each technician can work with each module individually and deploy it independently of other modules, we argue that delivery is more flexible and much faster than monolithic applications. Unlike monolithic architecture, microservices are smoothly scalable because there is no need to extend the entire system. In addition, a microservices-style architecture is more robust because the failure of a single module does not affect the entire infrastructure. However, microservice architecture designing and implementing is not a piece of cake. Generally, it takes more time and effort to work with all microservices. Moreover, quite often the deployment is difficult due to the sheer number of independent updates provided at the same time, and it is quite difficult to operate the entire process. But this can be simplified with deployment automation that DevOps engineers develop.
Microservices & Monoliths: What's the difference?
| | | |
| --- | --- | --- |
| Features | Monoliths | Microservices |
| Constancy | one failure – entire system is down | one failure – one item is down |
| Scalability | vertical and slow | horizontal/vertical and fast |
| Speed | slow deployment, non-integrable | fast deployment, seamlessly integrable |
| Required skills | Java, PHP, Ruby, Python/Django, etc. | DevOps, Docker, Kubernetes, AWS skills |
What architecture to choose, monolithic or microservice, depends on the goals of a particular IT organization, and monolithic style is for you if you intend to create a simple software, not trying to expand the team, and if you're at the early stage of a cycle and designing a Minimum Viable Product to quickly collect feedback from your customers. Conversely, you should use microservices if you want to create large-scale software, looking to expand your team, or even create a couple of teams. If you plan to use different languages and have sufficient time to plan the project carefully, microservice-type architecture is better for you.
5-turn road from Monoliths to Microservices
What application-level changes you should do before you move from monolithic architecture to microservice one:
Optimize building. It's important to streamline your building stage and get rid of dependencies, bottlenecks, and so on.
Split dependencies. Once the loop is ordered, you must remove the monolith dependencies between modules.
Migrate to the local environment. With Docker containers, you localize each module and this will accelerate your software deployment.
Develop synchronously. The different branches in the main repository should serve to run multiple tasks at once.
Accept Infrastructure as Code (IaC) practice. With IaC, you dramatically speed up your development processes, as the main goal of IaC is to eliminate toil and ditch bottlenecks.
Microservices: find out all!
So, here is the top-notch microservice-dedicated articles list from Profisea experts:
Final thoughts: Microservice architecture is our choice, what about you?
If you choose to use microservices and decide to migrate from the monolith, we recommend that you think carefully about what you are doing and why. Try not to focus on the microservice creation activity, but on the desired outcome. What do you think the result will be? If the answer to this question is clear and you want to implement microservices, go ahead, but reach out to DevOps professionals to execute DevOps-as-a-Service or at least get advice on this very time and energy-consuming issue.
What is NOC And Why Profisea's NOC is the Best in Class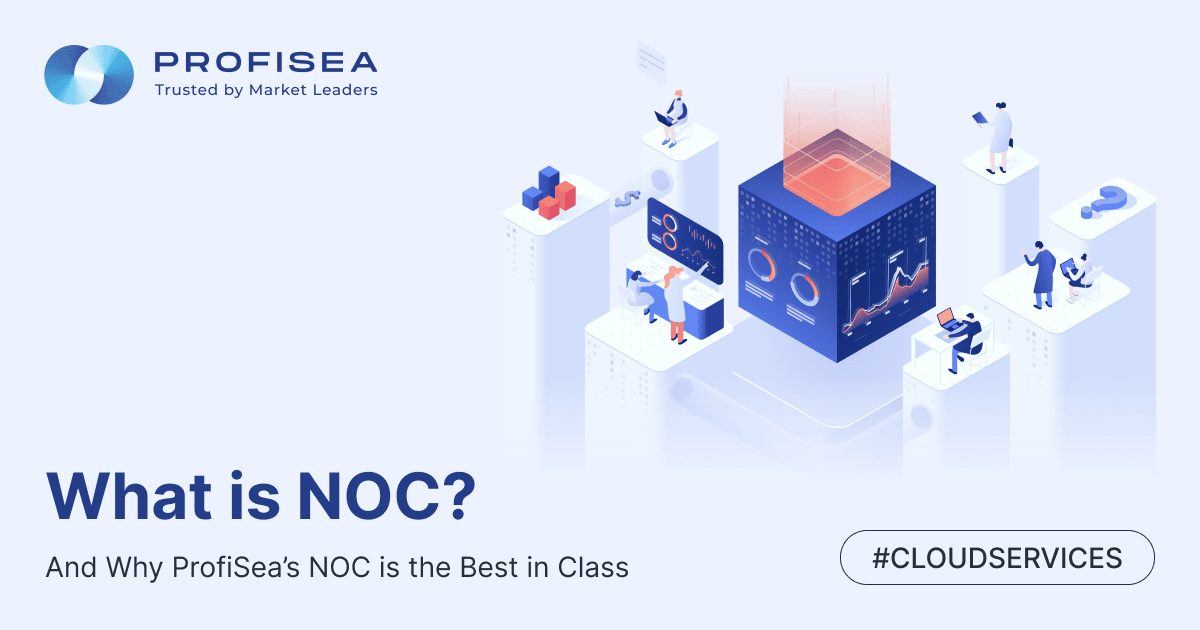 Service disruptions are an unfortunate reality IT enterprises must deal with whether they desire to or not. In the era of cloud computing, suppliers and customers rely on redundant systems, backups, and a range of disaster mitigation systems to reduce the risk of outrage. However, the biggest disruptions to cloud computing are due to the pioneers of cloud infrastructure technologies. For instance, a massive internet disruption in July 2021, briefly took out a wide range of major corporate websites — from FedEx to McDonald's. The outages coincided with reports of system disruptions from Akamai (AKAM) and Oracle (ORCL) — two key providers of internet infrastructure services. Later that afternoon, Akamai explained the outage was caused by a "software configuration update triggered a bug in the DNS system."
No one is immune to all sorts of contingencies ranging from ISP outrages to human error, on the other hand, handling IT disruptions ASAP is our clear duty since outage/downtime losses are huge. According to Gartner, the average cost of IT downtime is $5,600 per minute. And there are much more appealing casualties like productivity reduction and business reputation loss. According to Infrascale, 37% of SMBs in the survey group said they have lost customers and 17% have lost revenue due to downtime.
Here is when NOC (network operations center) saves the day providing a centralized location where IT teams can continuously monitor the performance and health of an entire infrastructure serving as the first line of defense against system disruptions and failures.
What is NOC?
Let's think about the Internet as a good case of one of the items NOC monitors. If there is a bottleneck on the Internet, or a major link has gone down somewhere, NOC knows about it and works on resolving the issue. How does this sound to you? Pretty cool! Network Operations Center (NOC) is a centralized facility where IT professionals monitor, manage, and respond to alerts when critical system elements fail.
NOC's perfect formula is:

NOC uses software tools to monitor technology assets via protocols like Simple Network Management Protocol (SNMP) to get in touch with system devices, determine their status and get back with this data to a centralized control panel where the NOC team takes action. NOCs are important components in a Technology Service Provider or Large Enterprise approach towards IT management. With NOC, IT organizations resolve issues proactively but not reactively. NOC engineers and technicians are in charge of monitoring the health, safety, and capacity of infrastructure in a customer's environment. They make decisions and adjustments to ensure excellent organizational performance.
With that, a pretty logical question arises — in-house NOC or NOC-as-a-service? NOC-as-a-Service is not a one-size-fits-all, but a quite practical option, and in the case of a company sourcing the NOC-as-a-Service compared to deploying and managing a NOC in-house can get rather powerful benefits:
Reduced CAPEX. Addressing your network issues to a mature service company that has already made the CAPEX investments to inaugurate NOC is more cost-efficient than a company hiring and deploying a professional NOC in-house team and handling all the costs.
Reduced OPEX. Professional NOC service providers can share OPEX-related fixed costs and therefore enable service at a lower cost compared to a customer operating an in-house NOC.
Improved team productivity. With NOC-as-a-service, in-house engineers can focus on more creative tasks, while boosting positive customer experience notably.
Why Profisea's NOC?
Israeli DevOps company Profisea provides NOC or CIOC (Cloud Infrastructure Operation Center), to be exact, as one of our various services. Profisea's Israeli-Ukrainian professional team supervise, monitor, and maintain the entire cloud infrastructure and related services to ensure the high availability of critical business services. Our AWS certified engineers keep a close eye on the cloud infrastructure to ensure the system uptime is not compromised due to malware, system errors, or other issues.
We are available 24/7. Our duty roster is scheduled and our partners have access to it. There is a virtual US phone number – a "hot number" that can be used for automatic call back to the engineer.
We fully automated incident monitoring and made a template out of it. It takes us two days to deploy this system. It means we provide a turn-key NOC: ready-made team, ready-made monitoring, and we have it fully automated.
We integrate with many services. We monitor AWS infrastructures and systems. Plus, we monitor the application itself. It means we monitor not only our partner's infrastructure but also all the dependencies that it has, even the mail server.
We are a Kubernetes-ready monitoring NOC team. We are Kubernetes experienced, which is a rare situation even with DevOps teams.
We have DevOps engineers on duty together with the NOC team. We schedule DevOps engineers' shifts and in case of an incident, he/she should join the NOC team and deal with it.
We react before an incident happens. Our NOC team's main goal is to prevent problems. We receive an incident, and it does not mean that something has fallen – it means that something begins to be suspicious.
Final thoughts: which NOC player is yours?
With NOCs, organizations gain complete system visibility, so they can detect anomalies and either take action to prevent problems or quickly resolve problems as they arise. NOC controls infrastructure and equipment from wiring to servers, including IoT devices and smartphones. NOC, when implemented correctly, manages integrationing with online customer tools and all involved services. Profisea provides NOC 24/7 services of the most reliable monitoring, maintaining, and administering for your Cloud infrastructure. So, if you're game, what player would be on your team?
Cloud visualization. Have your cloud under the watchful eye!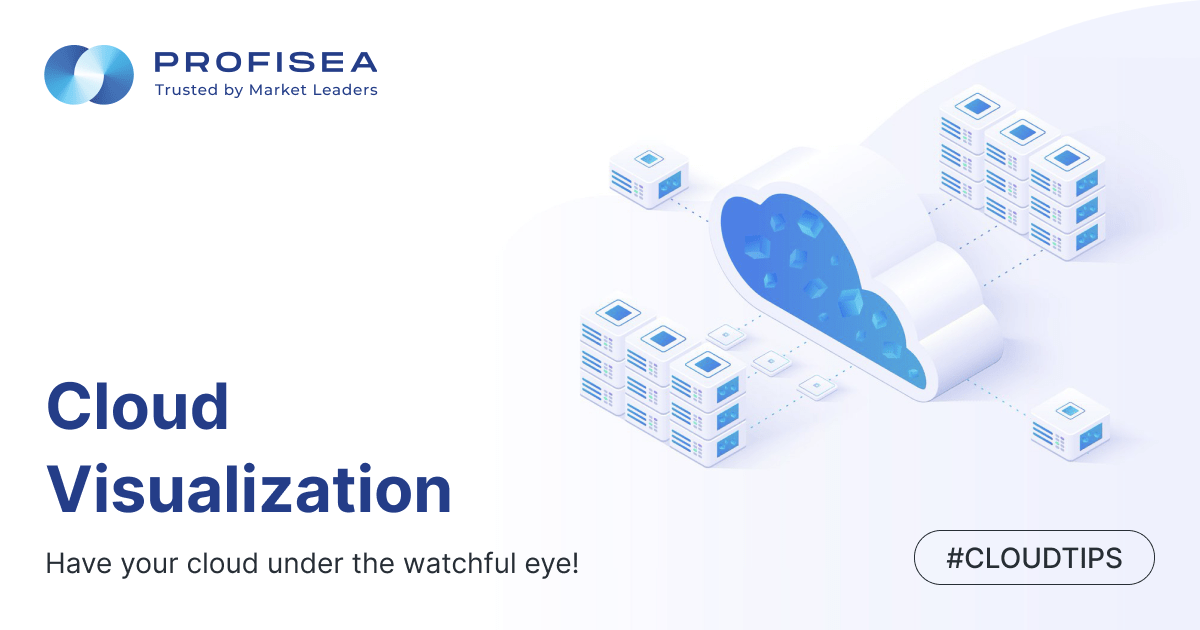 Cloud hosting is the trend every organization is willing to adopt. Progressive businesses give up building in-house computing infrastructures for cloud hosting services and solutions administered by giant world's cloud providers like AWS, Azure, or Google Cloud. According to a PwC report, 75% of IT decision-makers are considering turning to the cloud's adjustable and scalable services. Taking advantage of IaaS also gives you the flexibility to innovate faster, duplicate production environments, scale up or down ad-lib and take advantage of new technologies as they are released. However, with great flexibility also comes a new set of challenges like the complexity of managing and security. So, understanding the infrastructure's current state, automated planning of the future steps, lightning-fast troubleshooting, easily triggered scaling-up/down, and supervised security can be carried out with the help of cloud visualization. State DevOps Report indicates that high-performing IT organizations experiencing 60X fewer failures and deploying 30X more frequently identify visualization as an effective way to build quality into the system.
"Operational visibility with real-time insight enables us to deeply understand our operational systems, make product and service improvements, and find and fix problems quickly so that we can continue to innovate rapidly and delight our customers at every interaction. We are building a new set of tools and systems for operational visibility at Netflix with powerful insight capabilities," says Justin Becker, Director of Engineering at Netflix, that utilizes visualization tools like clockwork and publicly reveals insights into their operations because it attracts engineering and operations talent.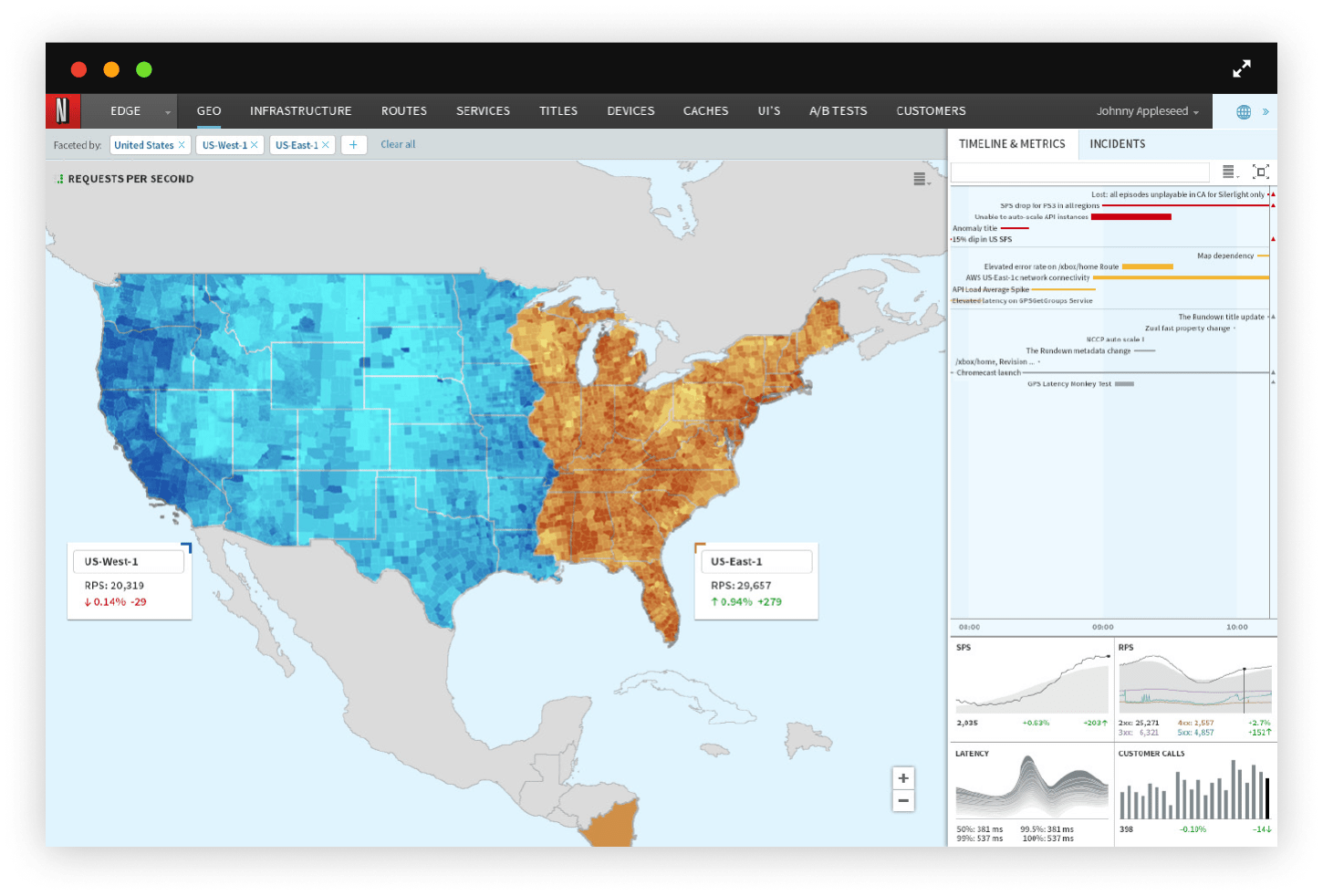 Source: netflixtechblog.com
However, for cloud visualization to work it should be implemented properly with the right data visualization tool. And yes, there are lots of them but not all of them are right for you. So, buckle up and fly high to reach out to the clouds to talk about the importance of cloud visualization, cloud visualization tools, and how to choose one.
Visualize your infrastructure, and business growth shall be given to you!
Cloud visualization is a process of creating a visual representation of all your virtual assets, nodes, networks, artifacts, and others. The best thing about this trend is that such a transformation of cloud resources will not be complicated and time-consuming, considering the ability of services cloud providers present (by the latest count, the list of services that AWS offers above 300 services across multiple categories). Nowadays, you have specific digital instruments that help DevOps, security engineers, and analysts generate cloud environment diagrams automatically that previously required hours of work. Plus, you don't have to be a cloud expert to become a visualization professional and start optimizing your cloud architecture today.
Top 5 best cloud infrastructure visualization benefits
So, what perks do you get from turning to a cloud visualization approach? With could visualization you:
1. Take total control over cloud resources. Сloud infrastructure visualization lets you gain comprehensive knowledge about all virtual resources you have in place. You get a clear view of any misconfigurations, defects in your systems, services/data storage, and other configuration details. Automatically generated real-time maps and diagrams enable higher visibility of rapidly changing cloud environments. Plain and brightly presented infrastructure diagrams and graphs seamlessly communicate the whole picture of your resources network, what's happening with load balancing and redundancy, which access levels each user has, etc.
2. Develop a more effective cloud cost optimization strategy. Cloud visualization instruments are essential for saving your budget. They streamline your operations and provide all resources observability 24/7, letting you create a bulletproof cloud cost optimization strategy. You can generate reports for and visualize any amount of any-size data in environments, which provides extensive operational visibility with timely insights about the most complex infrastructures.
Design – Create 2D and 3D models, create virtual prototypes
Simulate – Run large-scale simulations and parameter sweeps
Visualize – View simulation results using interactive tools
Collaborate – Securely transmit and share design data and simulation results
Cloud visualization empowers you to understand each element of your systems, processes, and solutions needed to avoid/fix issues quickly. Visualization tools significantly lower your expenses on infrastructure maintenance as they are predictable and easily manageable. Consequently, this paves the way for remarkably efficient cost reduction as you pay as you go.
3. Get DevOps operations agile and streamline. Cloud visualization reduces repetitive, manual work for the DevOps department, enabling faster operations with limitless agility. Your engineers will have more time to focus on high-priority, creative tasks. Visualization of DevOps processes is essential for amplifying feedback loops. Additionally, working with visuals improves communication significantly and boosts teams' workflows efficiency. With cloud resource visualization tools, any assigned users can access and analyze a real-time visual model of your infrastructure via data-driven interactive maps. You'll save a substantial amount of expenses by automating unscalable, time-consuming tasks and get extensive flexibility for your enterprise cloud workload.
4. Get improved cloud cybersecurity. Aside from praising public clouds as tools of the future, we can't avoid the fact that cybersecurity has become a big issue recently. You should always be aware of how data traffic moves through your virtual network and what circulation paths are allowed for it, how your ingress and egress ports and IP addresses work, etc. With cloud visualization solutions in hand, your teams will be able to troubleshoot the infrastructure problems and identify required security configurations faster.
5. Drive system compliance 24/7. By utilizing cloud resource visualization applications, you can continuously track potential compliance violations in a cloud environment and share network compliance details in the form of precise architecture diagrams or graphs. You can also provide these diagrams to auditors to confirm that your system complies with all the industry standards, which is vital when you store sensitive financial/personal data in the cloud.
Yes, I need one or How to choose the BEST cloud visualization tool
Considering the company needs, requirements and goals, you can utilize such cloud visualization tools:
Open-source apps, when the service code is publicly available;
Free visualization products, when some limited proprietary cloud visualization tool versions are available
Proprietary visualization tools, when full paid versions with a wide range of sophisticated functions is available in the cloud or provider's server architecture.
When deciding on what visualization tool suits your business most, consider these main factors:
Usability. A user-friendly interface is an equally important factor of visualization solution together with flexibility and analytical functionality.
Integration ability. When data lack issues take place, a good visualization tool easily connects to external sources and extracts critical information from them.
Scalability. Consider the tool's scalability level. Hard-to-scale solutions cannot be in favor, for obvious reasons.
Team skill level. Do not forget to take into consideration teams' skills when choosing a cloud visualization tool. Many managers skip this step and make a tactical mistake, as with complex tools in hand, they waste lots of the resources to train teams.
How to choose the right Data Visualization Software
And the sweetest: What are the latest trends in cloud visualization functionality? Alongside data visualization in the form of graphs, diagrams, charts, and infrastructure correlations, role-based access management, email reporting, visual analytics, and in-place filtering functionality, contemporary cloud visualization tools present new competitive features. So, here are the latest trends in data visualization:
Artificial Intelligence. AI & Machine Learning are integrated into modern cloud visualization solutions to catch and cover data patterns faster.
Actual management. What if you could rightsize, delete, spot/unspot instances right away inside the infrastructure schemes? It would be great! In all fairness, not so many data visualization tools can boast that feature.
Storytelling. Visual analytics is not enough right now. Demanding customers want visualization tools to enlist narrative while creating data reports, and modern visualization tools incorporate this feature as well. Gartner experts predict that by 2025, we will get most of our information from data-driven narrative storytelling, and 75% of these stories will be generated by automated systems.
Wrapping things up: Cloud visualization? Yes, please!
With the right cloud visualization tools, you easily validate the implemented CI/CD changes within minutes and you get rid of unconnected/unused machines and instances. What's more, you schedule hibernation, identify areas for improvements and detect misconfigurations/compliance violations. DevOps engineers instantaneously check all development strategies to see if everything is working as expected and gain instant security alerts. But, most importantly, you optimize your infrastructure at most, significantly reducing cloud spendings.
If you have questions about how to choose the cloud visualization tool suitable for your particular company needs, you can always turn to us. ProfiSea Labs professionals have developed a new generation, cloud visualization platform that you can try for free and see how you can improve your end-to-end production cycle on AWS. Plus, we can consult you on any cloud/DevOps-related issue you have. Don't wait up, contact us, and get a real-time visual of your cloud!
Microservices Architecture: Deployment Know-How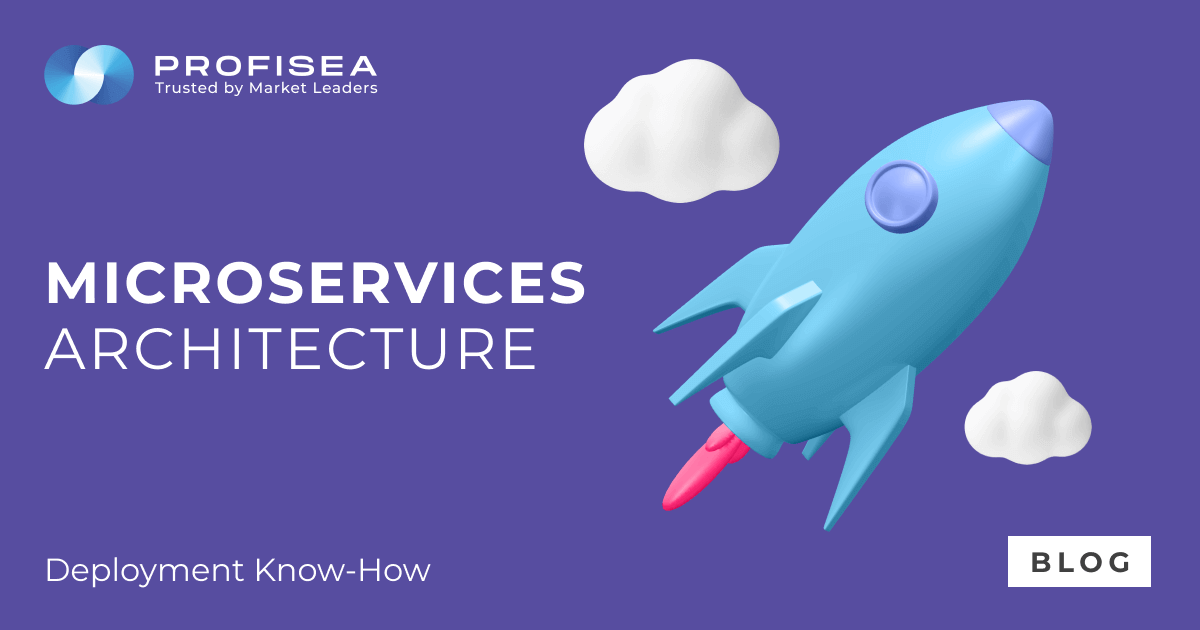 For the past several months, we've been sorting out everything microservices-related from teams organization, user interface, and data storing to distributed and security concepts, API gateways, registries, and more. You already know how to apply the Microservice architecture to build a shipment application as a set of services. Now it's time to wrap up and cross the finish line by digging into the patterns of the deployment process.
As we've mentioned, microservices are the stand-alone, independently developed and scalable artifacts. To provide the proper level of their performance and availability, you have to deploy them as a series of multiple instances. Meaning, isolating services from one another and choosing the appropriate deployment pattern.
5 Things to Remember Before Deploying
You'd want to simplify your app's deployment process while maintaining its cost-effectiveness;
In most cases, your team is going to write the services in different languages and frameworks;
Your services will have numerous versions; still, the deployment of each instance should be reliable, quick, easy;
You'd want to be able to scale or limit the hardware resources used by services;
You're going to track each instance's behavior, so the monitoring process should also be efficient.
How to Package Microservices?
Overall, you have 2 ways of running your sets of instances – on physical servers or virtual machines, on-premise or in the cloud.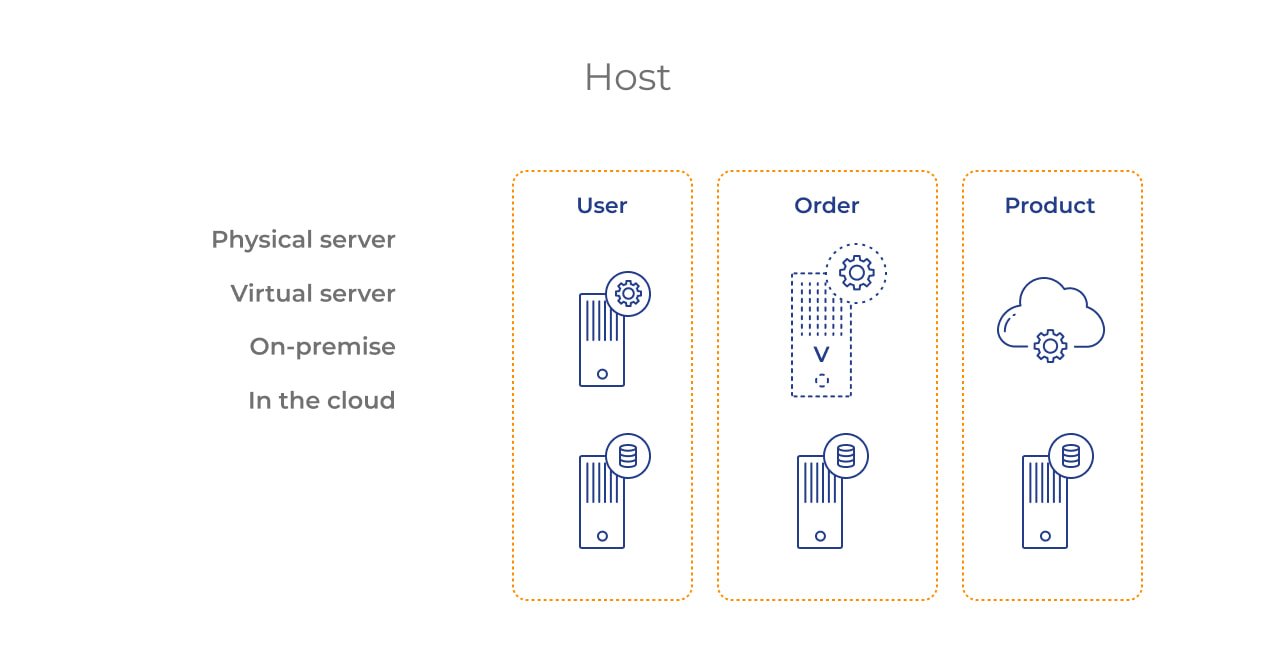 Each approach in detail:
Physical servers have their own memory capacity, processing algorithms, network, and data storage.
Virtual machines (VM) lend you the same physical server with established physical capacity, but, in turn, give you virtual CPU, memory, and network, therefore, empowering you to set limits for the resources consumed by your services.
Also, there is one more trick when you want to simplify and automate the deployment process. It's to present each service as a container image and run it using special digital tools for container management.
4 Microservices Deployment Patterns
When you've decided whether to use hardware or cloud servers, you can now follow one of these patterns. To choose, consider the software and hardware capacities you need, the forecasted load on your app, and the 5 things to remember we've listed above.
1st – Single Microservice Instance per One Host or VM
As it says, yes, deploy each particular instance on its own host or VM. This pattern allows isolating microservice instances from one another, and reduce the resources consumption by each instance to the threshold of a single host or VM.
In the case of virtual infrastructure, you'd have to package the whole service as a VM image and deploy the instances as separate machines. As an example, Netflix experts package their services as Amazon Machine Images, using EC2 for deploying the instances.
Also, this approach excludes the conflict of resources and dependency versions. The instances' management, monitoring, and redeployment are easy and straightforward.
2nd – Multiple Instances per One Host/VM
If needed, you can run a few instances of several separate services on a single host or VM. The tools like Tomcat, Jetty, or web apps/OSGi bundles can help with this pattern. Potentially, it's a more beneficial solution compared to 1st one thanks to the highly efficient resource utilization.
However, you shouldn't forget about ensuring that your services and dependency versions do not get into a conflict at the end of the day. Also, it'll be challenging to coordinate and limit the system resources assigned to the instances.
3rd – One Instance per One Container (The Art of Orchestration)
When your app's architecture gets too complicated, you risk getting lost in a packaging process with all its dependencies and system's capacity parameters. Here, as we've said earlier, the containerization method comes handy. The containers capture and save all technology specifics that you used during each service development. As a result, you get an image that contains all the right dependencies while isolating the instances. It boosts the consistency level, so you can now launch and stop your services in precisely the same way.
When you deploy instances as containers, it's easier to scale up and down the service itself. You just need to manage the number of container instances. With this pattern, you also have full control over the limits of CPU and memory usage. It's a way faster solution for running the microservices through all development stages to testing and production.
However, you'd face the need to orchestrate all your containers that run across multiple VMs. This means handling such challenges as:
finding out how to start the right container at the right time;
handling storage process and system resources usage;
establishing the way they can communicate with each other;
dealing with failed containers or hardware, and so on.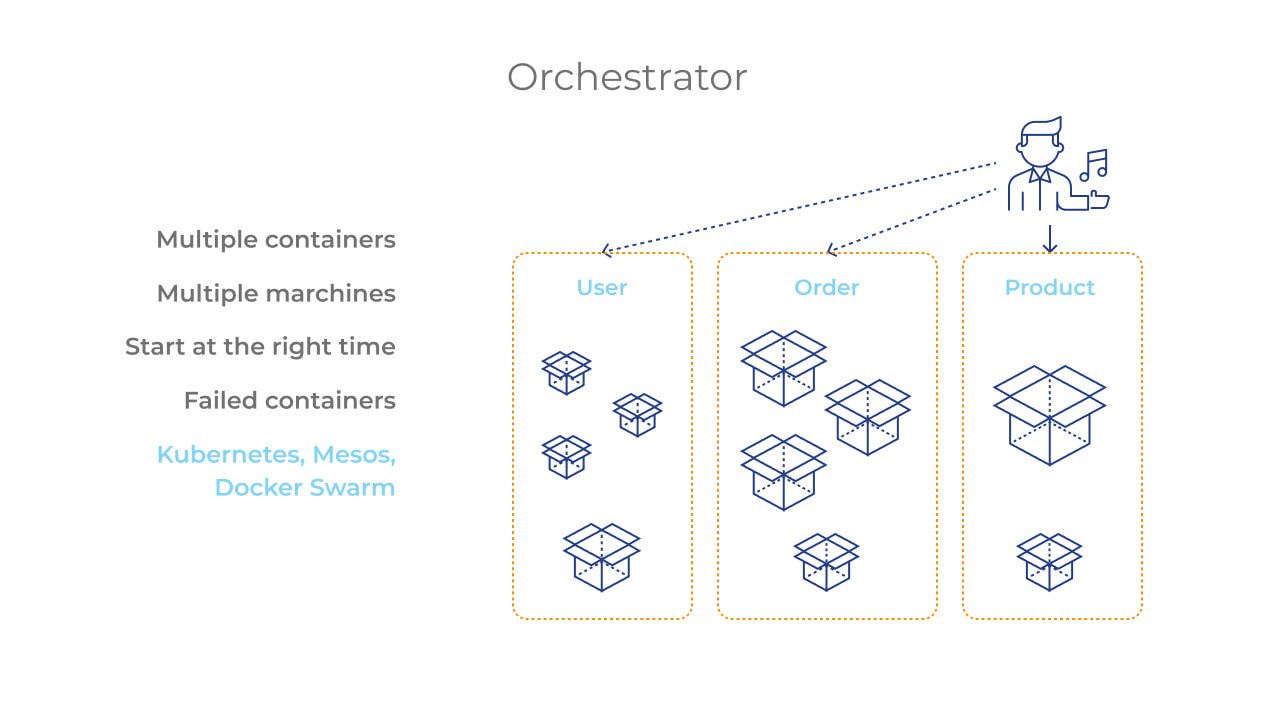 Fortunately, the modern advancement of technology presents you with the digital orchestrators that allow automating all these tasks and reduce time and efforts usually spent on manual operational tasks. The most popular container management and orchestration system is Docker, though there are other nice alternatives from Amazon, IBM, Kubernetes, Azure, and Google.
Continuous Delivery (Your Best Friend)
It's not the deployment pattern itself, but it's what you should aim for to achieve the highest level of robustness for your product development cycle from deployment into production. Continuous Delivery is a DevOps practice that streamlines code building, testing, version control, and delivering with automated tools. These tools package the ready code into a container, then ping the orchestrator to deploy all the pieces of your architecture. Repeated testing of your software, processes, and application ecosystem before deployment to production lets you discover most errors early on and reduce their impact.
If you follow the 3rd pattern and every element of your microservices architecture presented as a container, Continuous Delivery (CD) allows you to automate the entire deployment process. The most frequently recommended CD tools would be Jenkins, Buddy, Jira, and Netflix's Asgard or Aminator. Also, AWS, Azure, and IBM offer high-quality pipeline management instruments.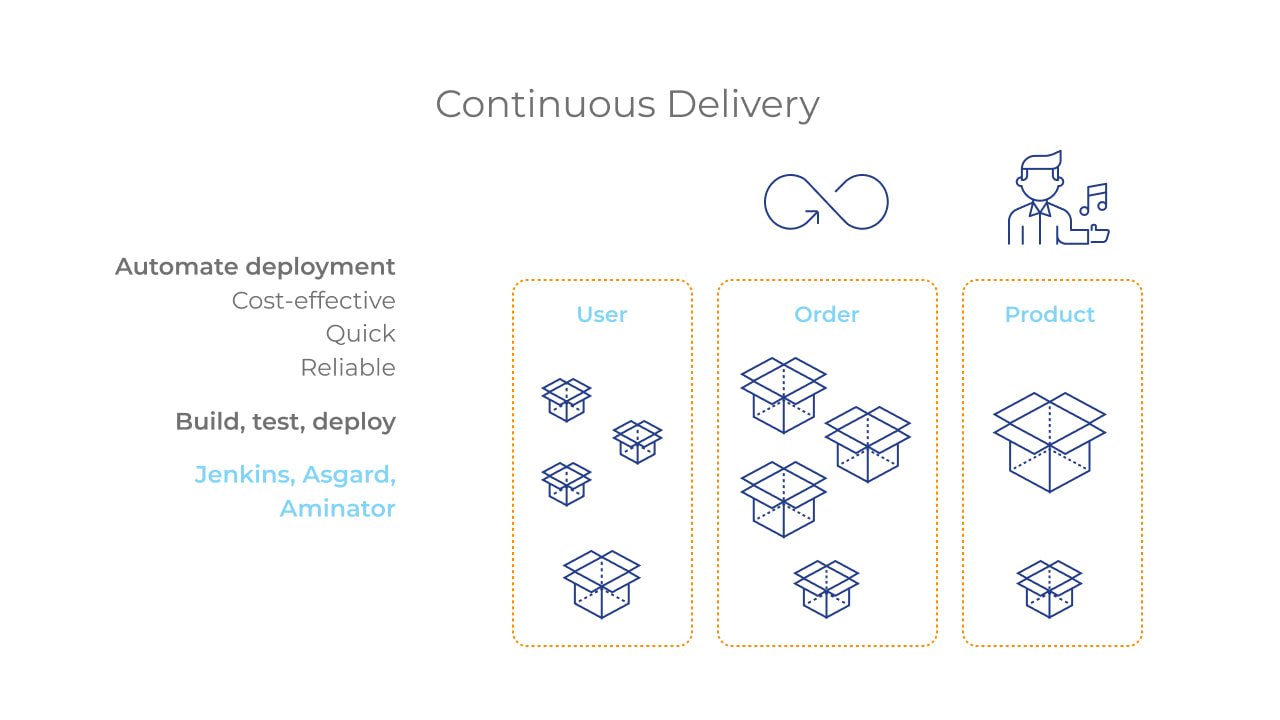 4th – Serverless Deployment Environments
One of the most commonly used patterns these days is to choose a serverless, automated deployment platform provided by a public cloud vendor. Most known providers of such environments are AWS Lambda, Azure Functions, and Google Cloud Functions. Their utilities come with all needed instruments that create a service abstraction via a set of highly available instances.
Such an infrastructure relieves you of the need to personally operate and manage the pre-allocated resources (physical or virtual servers, hosts, containers). Everything is going to be done for you on the pay as you go basis – you pay only for the vendor's resources you actually used while deploying a service.
To deploy microservices via serverless environments:
package the service's code (ZIP file or else);
upload it to the chosen platform's infrastructure;
state the desired performance characteristics;
the platform receives the code and processes it only when triggered to do so;
then, the FaaS cloud computing service automatically runs and scales your code to handle the load.
Generally, some of your microservices will be running on several environments, which means different runtime configuration for the same particular service. Therefore, when you consider developing a microservices-based application, remember to take into account the possible need to externalize each service code into a centralized digital configuration store (Consul, Decider, etc.) that would simplify its future deployment.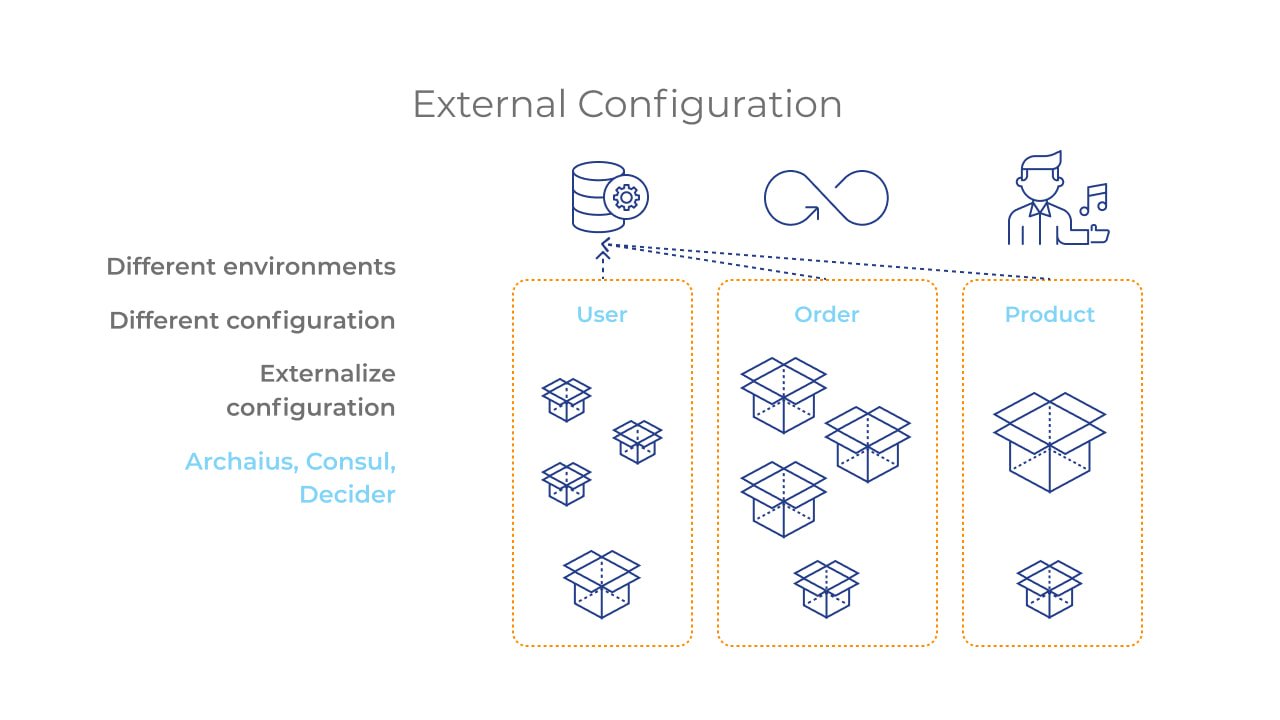 Summing Up
As you see, deploying microservices can be tricky. However, instruments like containers, orchestrators, and continuous delivery pipelines greatly help to overcome the complexity of any architecture. They automate and streamline not just development, QA, and version control, but also the deployment environment.
Being DevOps professionals, we're fully proficient with these tools and always ready to share our expertise to benefit your project. Reach out, let's see how we can help your business goals.
How to Leverage DevOps for IT Cost Optimization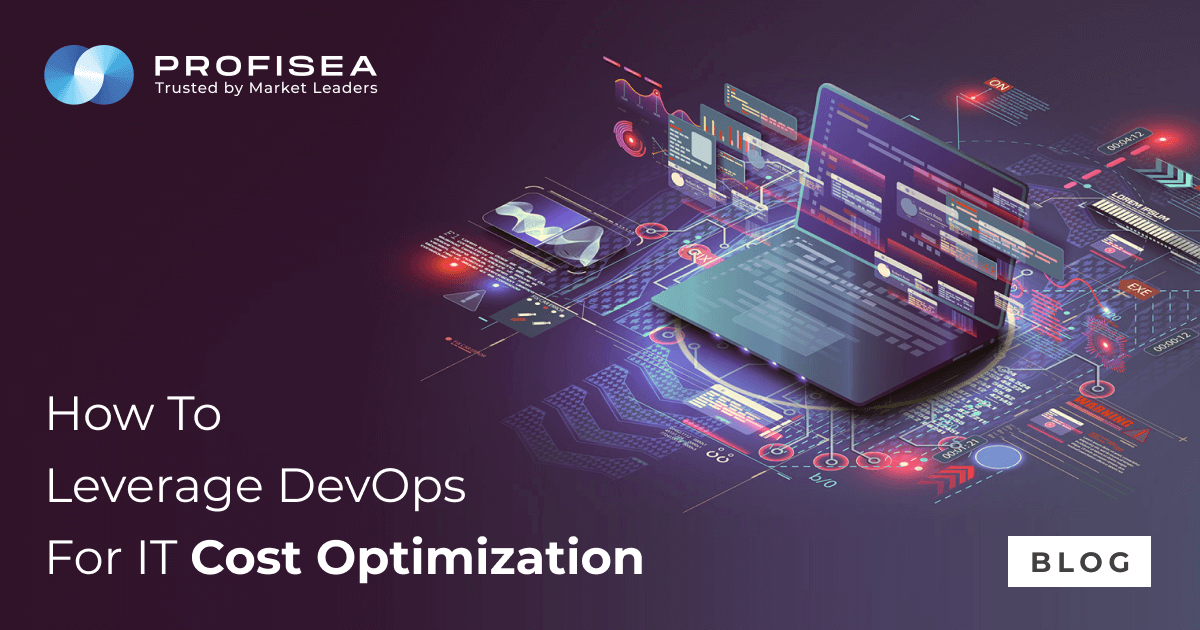 Stating the obvious here, but 2020 was a hard year for everyone at best. Continuity and resiliency of businesses worldwide have suffered because of the rapid unanticipated changes and economic collapse. Numerous companies faced massive layoffs, revenue drop, and the need to cut costs while maintaining their operations up and running.
However, some found the most efficient way to fight back the COVID-19 disruption. They reduced their IT costs through robust DevOps, cloud optimization, and automation of manual tasks. Virtualization and DevOps practices became life-savers for enterprises in various industries, allowing them to cut operating expenses for development, testing, deployment, and maintenance.
So, today Profisea shares useful tips to help you grow your business with DevOps while actually saving money and effort.
Why should you turn to DevOps to reduce costs and streamline operations?
There are top five reasons:
Business processes automation increases enterprise-wide operational efficiency and resiliency.
DevOps cycle itself essentially decreases costs by reducing engineers' manual work and shortens time to market. It enables your teams to build, test, and deploy faster and with fewer errors.
Fine-tuned CI/CD pipelines reduce redundancy for your teams and make your

business more agile

and flexible.
Automated cloud infrastructures allow achieving sustainable cost reduction by optimizing the usage of cloud resources. With a cloud-native architecture, you can scale up and down cloud consumption on-demand.
You can leverage DevOps as a Service (Managed DevOps) outsourcing model. It helps automate delivery processes, create cloud environments, improve team collaboration and productivity while paying far less than when doing it all in-house.
Gartner forecasts that global spending on IT areas to reach $3.8 trillion in 2021, an increase of four percent from 2020. Thus, the demand for maintaining the appropriate budget for all things related to software development will also be higher than ever. The world keeps transitioning into remote and hybrid work mode as the new normal — everything will depend on the quality and robustness of enterprise digital transformation initiatives.
Future software engineering will focus on even more agile release cycles, hyperautomation, remote collaboration tools, and continuous improvements across all development processes. DevOps and cloud computing will play key parts in building standardized and consistent build-test-deploy environments, where the teams are enabled to react to any changes promptly and efficiently.
How DevOps Optimizes IT Costs
Here is a quick guide on leveraging DevOps best practices to gain full control over your IT expenditures.
#1 Automate everything you can — CI/CD, business processes, and infrastructure
Yes, to save costs, you first need to invest some money in automation that has proven its effectiveness in reducing costs long ago. So, you'll need to automate CI/CD pipelines, manually controlled operations, databases, servers, and other ecosystem elements, and implement the Infrastructure as Code (IaaC) approach. It'll relieve your engineers from the need to provision IT infrastructure and manage all its components manually every time they build, test, or deploy software.
Instead, CI/CD processes and the whole infrastructure will be transformed into a customizable and scalable automated framework. Such a framework consists of the pre-set templates, protocols, and controls that allow your developers to configure existing services or launch new ones within minutes. IaaC model also lets you set the same configuration to one node or to thousands of them, avoiding vast amounts of repetitive work.
Subsequently, the IaaC approach also enables business processes automation (BPA) by eliminating mundane, routine, but still important tasks. They won't be skipped, but they will be automated and won't be demotivating your developers ever again, thanks to the DevOps practices. With BPA, you'll receive a highly efficient workflow with more time for QA and testing, which will boost your team's productivity and lower expenses for rework.
#2 Don't neglect third-party services and software
You can easily reduce company operating overhead expenses by using third-party SaaS providers like AWS or Azure clouds, Elastic managed services, and others. For instance, building a managed database from scratch is also time-consuming and expensive. Luckily, an expert DevOps team can provide you with the most cost-efficient, ready for use service (e.g., Amazon RDS).
Using such an approach, you'll pay only for the resources you actually use during an outlined period of time. Third-party managed service providers offer various packages with computing and storage capabilities based on your business goals. As the pandemic pushes companies to stop growing their workforce and avoid substantial investments, leveraging third-party services is a win-win strategy.
#3 Optimize tools and resources
In most cases, your budget is blown up by poor management of a wide range of DevOps applications and resources your team uses daily. Hence, a good idea is to take an inventory to analyze all your instruments and re-develop legacy infrastructure if needed to cut its costs. Then, create an optimization roadmap to choose the suitable capabilities, instances, management tiers, and optimal payment options for each tool. Managing your cloud usage is essential to avoid sprawl.
The roadmap can include such actions as:
Analyzing the consumption of subscription-based services and their relevance;
Using discounts from a service provider;
Setting automatic hibernation/system shutdown for machines you don't need running 24/7;
Choosing the right type of instance for cloud resources and deleting underused instances;
Moving the occasionally used storage to cheaper tiers;
Implementing alerts for when spend thresholds exceed the pre-established limit;
Checking up if hosting in a different region/zone can benefit your project.
Finally, train your staff to appropriately manage all the resources and implement policies that enforce limitations and usage requirements. It'll help you control IT spending and gain maximum efficiency from your toolchain while significantly optimizing costs.
#4 Containerize your applications
Container-based development eases application hosting and streamlines collaboration between all team members. Containers accelerate building, testing, and deployment environments, making user experience always consistent. When your software is containerized, it also simplifies the process of updating it without disrupting service.
This approach lowers expenses needed for keeping your resources up and running, and inside containers, you can operate applications developed in any language. This, in turn, allows your teams to switch between different programming environments fast and without losing productivity.
#5 DevSecOps — cover your security gaps
In our times, when businesses move to all things remote, your company's cybersecurity is a top priority. Enforcing robust security policies and protocols for both employees and users is critical. If those policies aren't followed, it can cost you a lot. DevSecOps approach is a rising star in the IT field that allows you to detect any exposable flaws in your enterprise data safety measures. And do everything necessary to remove vulnerabilities before any breach happens.
#6 Try out DevOps as a Service
This outsourcing delivery model provides turn-key consulting and engineering services from audit and strategy planning to project infrastructure assessment and development actions. DevOps managed service providers can help you grow or shut down SDLC areas according to your operational needs. Simultaneously, usage of on-demand, budget-friendly DevOps services can free your in-house full-time employees to focus on delivering better value to more strategic tasks.
External DevOps experts will handle all tasks related to requirements clarification, identifying risks and opportunities, creating architecture, implementing automation and IaaC, and more. Instead of doing it yourself, you'll get a comprehensive roadmap designed by professionals or even the core infrastructure with configured pipelines fully ready for support management and scaling.
Four actions to take to start optimizing your IT costs with DevOps
Audit your processes, business goals, and resources to get a clear picture of what you're using and what your operating expenses are. Then, initiate business impact analysis to discover the bottlenecks and map out the risk scenarios, seasonal lows and highs.
Create a plan for your optimization journey and risk mitigation — define the problematic areas and the ways to improve them with the DevOps practices.
Implement the changes and adapt your architecture. Assess your new capabilities and monitor your new stream of IT costs to see if the planning was successful and if there are any gaps you overlooked.
Continue improving your

optimization cycle

— look for new services and tools that will help you reduce expenses even more while maintaining your infrastructure's highest productivity.
Starting 2021 with a Bang!
DevOps future looks brighter than ever, considering an increasingly fragmented, hybrid work culture that awaits us in the coming decade. The benefits of using DevOps for business growth are almost limitless. Alongside reducing time, money, and effort required for software development processes, agile DevOps practices eliminate bottlenecks in various fields. From automated infrastructure provisioning and cloud migrations to legacy systems updates and security issues.
Profisea's DevOps team in Israel can help you navigate through the automation journey. Our engineers will provide the best end-to-end cloud cost optimization solutions and fine-tune your infrastructure to run on-demand while meeting all your project's goals. Consequently, Profisea's dedicated services will free your time and budget for other business-focused purposes.
With Profisea's DevOps as a Service model and internal tool for cloud resource visualization, you'll pay only for what you use at a particular time. Outsourcing DevOps services from a trusted provider will cost you far less than setting it all in-house or manually. We'll implement DevOps practices and tools to create highly advanced, extensively scalable environments for you.
If you have some exciting insights to share with us or would like to discuss the described trends, reach out to us! Our DevOps experts are always ready to provide free consultations.