NOC best practices: the ultimate guide to taking your NOC from zero to hero. Part 2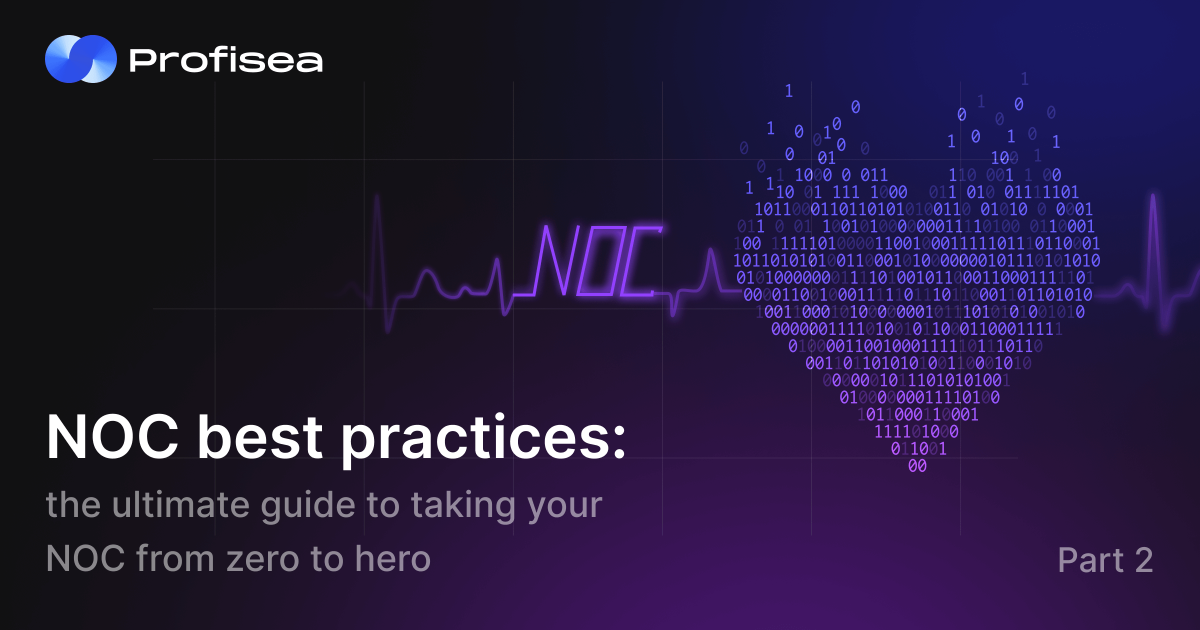 We continue to explore NOC best practices (check the first part of our guide) and today, we'll talk about the most effective tools for your NOC. We'll also share some exclusive tips that will help you smoothly implement NOC best practices into your operations.
How to choose the best tools for your NOC
When you plan to build and set up a NOC from the ground up or improve your existing practices, you should draw on the best tools for every aspect of your NOC. But before getting into the detail of comparing one tool against another, you need to think more broadly about what exactly you need and how you want to achieve your goals.
You'll find dozens of tools for your NOC, however, it's easy to get confused by the variety of options and concentrate on the pros and cons of utilizing one tool versus another. And while sometimes it's a good idea to look through the whole assortment of NOC tools, this confusion may be a sign of deeper problems regarding the way in which your NOC uses those tools, or how you implement those tools into your workflows. Therefore, you need to invest time and effort to define what exactly your NOC team requires, and what NOC activities you need to cover.
Here is a list of questions to think about while choosing the tools for your NOC: 
How are we going to use the tool? What functionality is crucial to us?
How do the features of the tool help to support our operational workflows?
Do we have everything needed to use this tool effectively and to the full extent of its functionality?
How will this tool work when our operational workflows scale up?
Does this tool include upgrade options to ensure the solution is 'future-proof'?
What is the price? Is the pricing plan for the tool transparent? And do the licensing models fit our organization's requirements?
Can we integrate this tool with our other tools? Do we know how to design and set up that integration?
How quickly can we implement the tool? How much time do we need to invest to see the first results?
This list isn't exhaustive, and you should add specific questions that are relevant to your organization. Here is a quick look into five categories of tools you would probably find useful at work inside any high-performing NOC: monitoring, ticketing, knowledge base, reporting, and process automation.
Monitoring 
There are two main types of monitors: infrastructure monitoring and end user experience monitoring. Both types are necessary for your business, but you need to understand the difference and how to use each of them to enhance your NOC strategy.
Infrastructure monitoring is about servers, networks, and data center equipment. An efficient infrastructure monitoring solution creates a snapshot of a network's health that is crucial for your NOC team. With the help of infrastructure monitoring tools, your NOC engineers can identify issues as they emerge and remotely address them. It's essential to have a full understanding of network architecture to define which issues most affect the experience of end-users. This will allow your team to concentrate on the aspects most important to maintaining the workflow and keeping your users happy.
Examples: SolarWinds, LogicMonitor, OpenNMS
End User experience monitoring helps you observe user behavior and activities, detect problems, and find effective solutions. This aspect is crucial for overall NOC productivity as it will allow your team to handle the problems encountered by users and improve the customer experience. You can use the results to create future knowledge base content and help identify areas for improvement should some issues be persistent.
Examples: Dynatrace RUM, AppDynamics Browser RUM, New Relic Browser, Pingdom
Ticketing
Choosing the right ticketing system is necessary to maintain effective workflow when issues arise in your NOC. There are numerous tools available nowadays, so you can find the one that best meets your needs. To do this, you need to have a full understanding of the types of tickets most common to your network and the full scope of what your NOC team will be monitoring.
Examples: ServiceNow, ConnectWise, Jira
Knowledge base 
A well-organized and extensive knowledge base will help to resolve many tickets faster and by the first person who starts to work on the problem. Gathering information about the most common issues faced by users and building up a knowledge base to handle these problems require a lot of time but this investment will pay massive dividends in the long run. You need to choose the right knowledge base tools to make the experiences referenceable to the whole team and helpful in making future decisions for the organization.
Examples: Stack Overflow for Teams, MangoApps, Confluence
Reporting 
In NOC operations, reporting has two main goals. The first is to see how the NOC is operating to enhance and better organize its elements, including tools, team members, and processes, for day-to-day activities and to understand what should be done in terms of mid- to long-term planning. The second goal is to recognize patterns that lead to persistent issues and detect their root causes. This is essential for effective long-term problem management.
To reap the benefits of reporting, you need tools that take complex data and allow your NOC team to analyze and present them in an easy-to-use way.
Examples: Power BI, Tableau, Snowflake, AWS Redshift
Process automation
We all know that automation is the future of IT, and NOC activities are no exception. By automating repetitive daily tasks, time is freed up for revenue-generating projects. You can also reduce Mean Time to Resolution (MTTR) in critical incidents thanks to process automation. Essential events in the system can be managed through the triggering of specific workflows during off-work hours.
Examples: BigPanda, Moogsoft
Ready, set, implement: tips to leverage best NOC practices 
In the first part of our guide, we've shared our NOC best practices, but they are beneficial only if they are adopted correctly. Here are several tips to help your NOC successfully implement best practices across your organization's network operations.
1. Opt for a step-by-step approach to implementation
Building your NOC from scratch and implementing NOC best practices can be a long process, so try to do it gradually. Make sure that all NOC team members know, understand, and follow a selected best practice and can teach others how to use and comply with it. Then, move on to the next best practice.
2. Be realistic 
While implementing NOC best practices promises a lot of benefits, try to avoid unrealistic expectations. Consider that NOC best practices can be challenging to implement, and your team may make mistakes along the way. Don't rush them – give your team time. It's important to understand that errors may occur and are probably inevitable while implementing best practices. Accept that there will be errors, add important info to your knowledge base, and learn from that experience.
3. Track progress
Assess the effectiveness of particular NOC best practices. Some best practices may fit your organization and its NOC better than others, so try to find the perfect match. With continuous evaluation and improvement of NOC operations, you can decide which of these practices you really need for your organization.
NOC as a service: how to choose the right provider for your needs 
All businesses — large and small – understand the essential role that their NOC plays in all their functions. Proper operations mean stability, consistent availability, and security through continuous monitoring and maintenance of the IT infrastructure.
But what is better: to build your NOC from scratch or outsource it? In an era when almost everything can be outsourced, why not consider this option? There are definitely pros and cons to outsourcing versus building your own NOC. When it comes down to it, each organization will have its own business goals and set of criteria to help make this decision.
Imagine you have weighed the advantages, disadvantages, future costs, and benefits and decided to outsource your NOC services. A wise decision! But how do you choose a good NOC service provider? When choosing an outsourced NOC partner, look for one that provides a broad array of customized options. Your business is unique and comes with its own set of challenges and these require a tailored approach.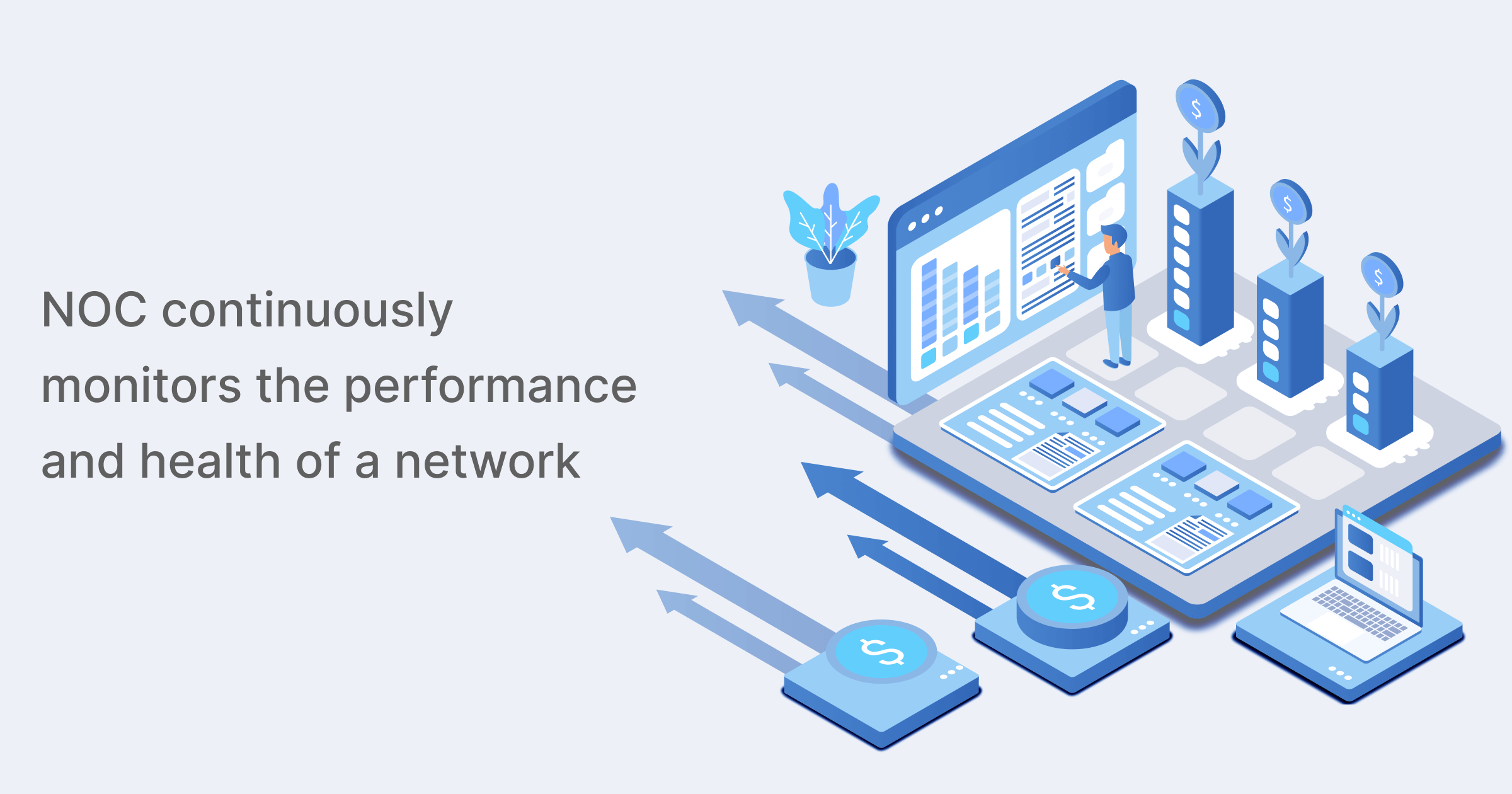 Here is a set of criteria you should consider before starting the collaboration:
 1. Your NOC partner should be able to monitor complex systems 
A good NOC partner should be able to support virtual, distributed, and cloud-based environments, as well as their hybrid forms.
 2. Flexibility is crucial for alerting 
Your NOC provider should offer you alerting options, depending on who needs to be notified as well as the seriousness of the issue.
3. Troubleshooting skills are a must-have 
Monitoring and detection are important, but they are only the first steps in keeping your network healthy. The main goal of the NOC is to prevent outages (and fix them quickly if they happen). Choose a NOC provider with a proven track record in troubleshooting.
4. 24×7 support if you need it
If your business requires 24×7 support and a fast response, be sure that your NOC partner can offer you this option.
5. Attention to continuous improvement
Continuous improvement is a key to success in the IT industry. Your NOC provider should continuously enhance their monitoring as they understand more about your organization, your network, and your team.
Bottom line: it's time to start a NOC with Profisea
If you're looking for top-notch NOC services, Profisea is here to help.
Our company provides a full spectrum of NOC services to ensure the health, availability and status of your system. The Profisea professional team supervises, monitors, and maintains the entire cloud infrastructure and related services to maintain highest availability of your critical business services. Our AWS certified engineers keep a close eye on cloud infrastructure to guarantee that system uptime is not compromised in the event of outbreak alerts, system errors, or other issues.