Share this article:
In 2020, cloud resource visualization became one of the trends everyone is talking about in cloud computing. Surely, you heard cloud pioneers like Netflix openly promoting visualization in cloud operations to help identify important information in over-complex, dynamically changing systems. People strive for visuals, easy and intuitive to understand. Especially now, when the world is about all things remote.
DevOps engineers simply can't manage petabytes of data generated by enterprises daily just by staring at thousands of letters and numbers. So, today we decided to explore why exactly you should care about cloud infrastructure visualization and how to benefit from it.
What is cloud visualization?
The adoption of Infrastructure as a Service (IaaS) skyrockets as companies keep growing their virtual capabilities, connecting more cloud assets each day. It's essential to track all infrastructure resources' provisioning and configuration and quickly identify any troubles with them. But gaining visibility into all those massive digital data sets becomes a 'mission impossible' challenge.
We don't need to explain what visualization itself is – it's literally everywhere in our digital technologies era. Widgets, interactive maps, infographics, Big Data charts, round-the-clock dashboards, and more. It's better to show rather than tell. Thus, cloud resource visualization is a process of creating a visual representation of all your virtual assets, nodes, networks, artifacts, interfaces, and others.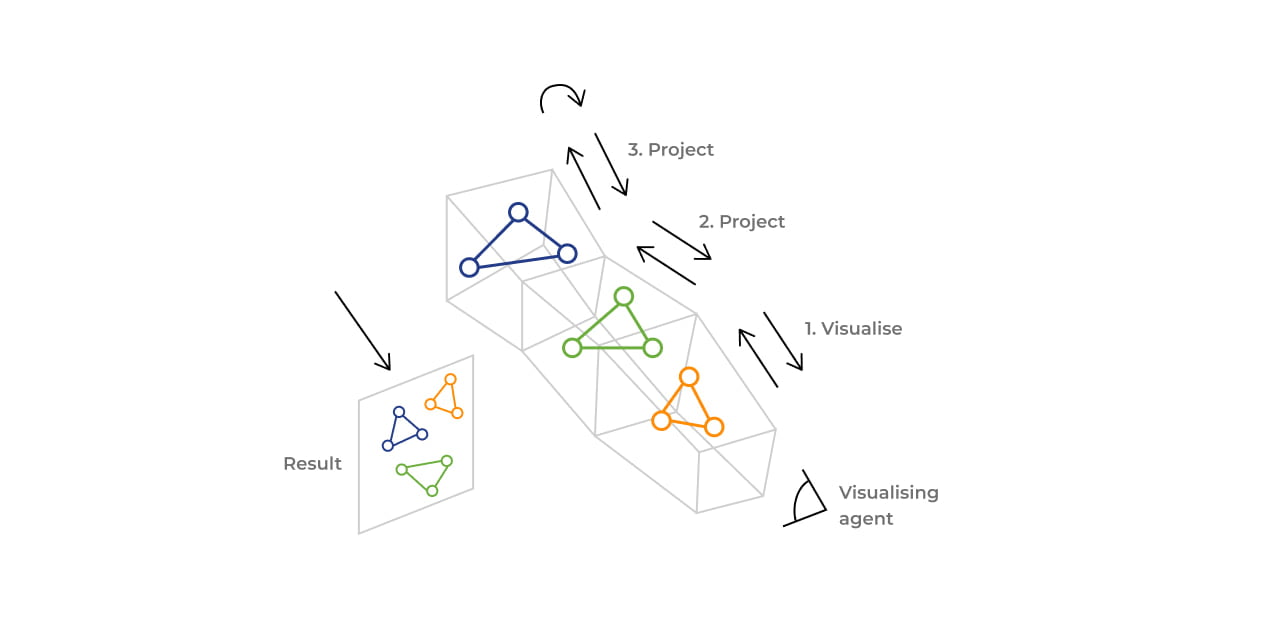 The best thing about this trend is that such a transformation of cloud resources will not be so complicated and time-consuming as it was before. Nowadays, you have specific digital instruments that help The best thing about this trend is that such a transformation of cloud resources will not be so complicated and time-consuming as it was before. Nowadays, you have specific digital instruments that help DevOps and security engineers or analysts generate cloud environments' diagrams automatically. What previously required hours of work is now done in minutes by technology. You don't need a Ph.D. or be a visualization professional to start optimizing your cloud architecture today. or analysts generate cloud environments' diagrams automatically. What previously required hours of work is now done in minutes by technology. You don't need a Ph.D. or be a visualization professional to start optimizing your cloud architecture today.
Six best advantages of your cloud infrastructure visualization
So which perks do you actually get from turning to this technique? Why should you care about moving your business in this direction? We'll try to show you with our text, yes.
#1 Visualization for DevOps: reduce of manual work, faster operations
First things firsts, working with visuals improve communication significantly and accelerates your development and operations teams' workflows. Visualization of DevOps processes is essential for amplifying feedback loops. Meaning, feeding back the state of what's happening in your systems (Ops) back to the systems' creators (Dev).
With cloud resource visualization tools, any assigned users can access and analyze a real-time visual model of your infrastructure via data-driven interactive maps. No more manual creation or configuration of virtual reporting diagrams for security, compliance, and system architects. You'll save a substantial amount of expenses by automating unscalable, repetitive, time-consuming tasks and get limitless flexibility for your enterprise cloud workload.
#2 Higher performance for IT departments
As the Puppetlabs' 2015 State of DevOps Report revealed, high-performing IT-based companies have 60X fewer failures and recover from them 168X faster than lower-performing competitors. What's more, they deploy 30X more frequently due to the 200X shorter SDLCs. How do they do that? Even five years ago, the report's authors stated that visualization is, indeed, an effective approach to building high-quality, short production cycles.
The more you enforce quality into your software ecosystems — through automation and visualization — the higher performance and stability you get. These techniques allow you to manage your staff workloads more productively by visualizing tasks, processes, issues, and barriers.


#3 Taking full control of cloud resources and their network
Сloud infrastructure visualization lets you gain comprehensive knowledge about all virtual resources you have in place, their relationships, networks, and compliance. You get a clear view of any misconfigurations or defects in your systems, services, or data storages, and other configuration details. Automatically generated real-time maps and diagrams enable higher visibility of rapidly changing cloud environments, new and existing ones.
Up-to-date infrastructure diagrams seamlessly communicate the whole picture of your resources network. How and where you host the applications, what's happening with load balancing and redundancy, which access levels each user has, and more. You'll find an answer to any question you might have in a simple cloud diagram.
#4 Cloud cybersecurity at your fingertips
Aside from praising public clouds as tools of the future, we can't avoid the topic of cybersecurity when you keep your applications in them. You should always be aware of how data traffic moves through your virtual network and what circulation paths are allowed for it. How do your ingress and egress ports and IP addresses work? What are the TCP port numbers?
Not surprisingly, for example, AWS security groups visualizing feature helps you even with this matter. It promptly and automatically transforms any complex architecture artifacts with all their numerous settings into a comprehensible map of your cloud cybersecurity. Therefore, your teams will be able to troubleshoot the infrastructure problems and identify required security configurations faster than ever before.
#5 Driving system compliance 24/7 (GDPR, HIPAA, PCI SSC, ISO, SOC 2)
Using cloud resource visualization applications, you can continuously track potential compliance violations in a cloud environment. Then, share with colleagues exactly all the needed network compliance details in one architecture diagram. Generated automatically, so, again, no need to do this manually.
You can also provide these diagrams to auditors to confirm that your system complies with all the industry standards. It's vital when you store sensitive financial, personal, or patient data in the cloud. Your company is legally obliged and responsible for protecting such data to the best possible level and prove compliance through a regular audit.
#6 More effective cloud cost-optimization strategy
Cloud visualization instruments streamline your operations 24/7, empowering you to embrace a proactive approach to optimizing your operating costs. You can create reports for and visualize any amounts of data in environments of any size. Even for the unconnected resources, which provides extensive operational visibility with real-time insights about the most complex infrastructures. You begin to understand each element of your systems, processes, and the solutions needed to avoid or fix issues quickly.
It enables you to innovate and evolve your product rapidly while scaling virtual resources up or down based on your business needs. Which paves the way for remarkably efficient cloud cost optimization as you pay only for what you use. Visualization significantly reduces both manual errors and your expenses on infrastructure maintenance — costs will always be predictable.
Diving into cloud visualization
Summing up, cloud resource visualization tools help understand and validate the implemented CI/CD changes within minutes instead of hours. You can get rid of unconnected or unnecessary machines and instances, unused and duplicated environments. Schedule hibernation, identify areas for improvements, detect misconfigurations or compliance violations. DevOps engineers can instantaneously check all development strategies to see if everything is working as expected and gain instant security alerts.
All of it and more — revealed in diagrams that you can manage, analyze, and share among authorized users. Visualization enables stable business agility, continuity, and resiliency, saving your budget. IaaS models applied in cloud computing are affordable even for early-stage startups.
Starting with a cloud infrastructure visualization approach is easy and not so much at the same time. You'll need to choose the most robust SaaS platform that will do everything for you. 
While choosing, consider that it should:
Automatically generate dynamic, logical diagrams and maps
Provide real-time, data-rich security and operational insights
Investigate your entire architecture, including its hidden parts
Troubleshoot and identify compliance issues
Send instant alerts about unapproved changes or vulnerabilities
Issue recommendations on how to improve your cloud usage
Show inclusive billing summary and ways for cloud cost optimization
Allow sharing diagrams and work in teams
Seeking help from a professional DevOps company in Israel?
ProfiSea offers its own free cloud visualization web app that not only auto-generates diagrams but enables you to improve the end-to-end production cycle.
Share this article: